Park Hang-seo honoured one of best coaches in Viet Nam
January 07, 2022, 18:06 [GMT+7]
For the first time in the history of selecting the outstanding athletes and coaches in a year of Viet Nam, a foreign coach was honoured. He is Park Hang-seo of the men's national football team.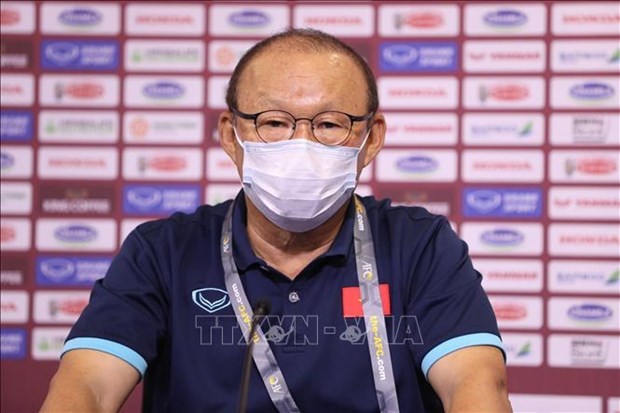 Coach Park Hang-seo (Photo: VNA)
Park ranked third in the best coach award with 298 points, thanks to his efforts to help the team enter the final round of the 2022 FIFA World Cup Asian qualifiers.
In this category, Pham Minh Giang of the futsal team became the winner with 394 points, followed by athletics coach Tran Van Sy.
Swimmer Nguyen Huy Hoang was voted the best athlete of 2021. With 1,178 points, Hoang overcame Nguyen Thi Oanh (athletics) and Truong Thi Kim Tuyen (taekwondo) to claim the award.
The Quang Binh province native was the first Vietnamese athlete to reach the 'A standard', qualifying for Tokyo 2020 in the men's 800m freestyle (ranked 20/34) and 1,500m freestyle (ranked 12/29). In addition, he also won two gold medals at the National Swimming Championships.
At the world championships held in December in the UAE, Hoang broke national records in the 400m freestyle and 1,500m freestyle.
The remaining positions of Top 10 athletes are Cu Huynh Nhu (women's football), Quach Thi Lan (athletics), Nguyen Thi Anh Vien (swimming), Ho Van Y (futsal), Nguyen Thi Thu Nhi (boxing), Nguyen Quang Hai (men's football), and Hoang Thi My Tam (karate).
The title of the best athlete with disabilities in 2021 went to weightlifter Le Van Cong with 810 points. The 37-year-old athlete won one silver at the Tokyo 2020 Paralympics and one silver at the 2021 world championships.
Along with that, Le Quang Thai, coach of Cong, won the title of best coach for people with disabilities.
The above awards have been voted by sports journalists in the field of sports nationwide.
Source: VNA
.