SHB coach expresses concern at the lack of quality footballers
January 18, 2022, 12:05 [GMT+7]
After several months of taking the post of SHB Da Nang's head coach, Phan Thanh Hung has brought excitement to both local players and supporters. Hung has already said with confidence that he would bring SHB Da Nang back to its right position in the domestic arena.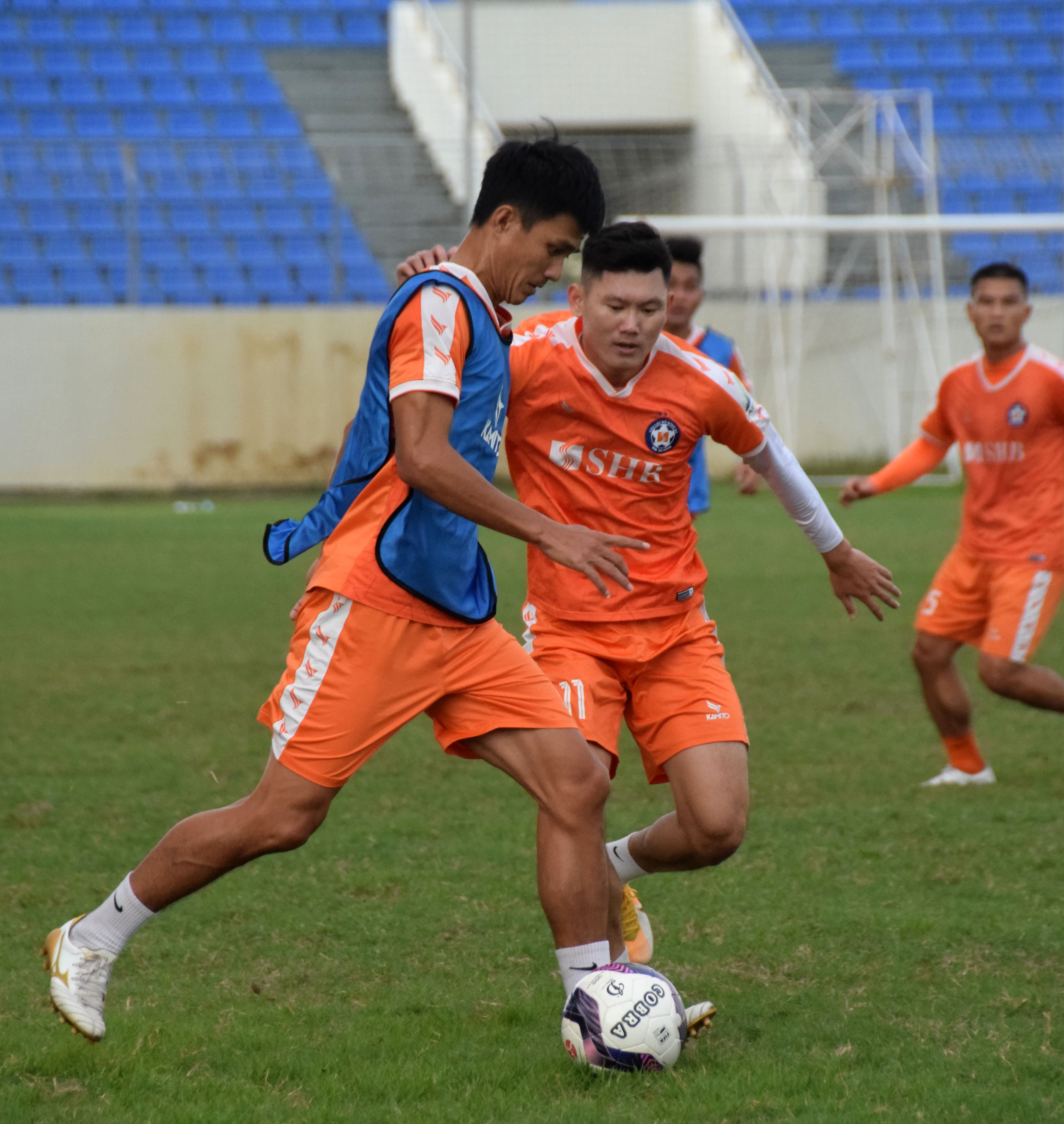 With the professional competence of key domestic players like Phan Van Long (in orange), SHB Da Nang is not too concerned if there are more foreign players on the offensive front in the upcoming league season. Photo: ANH VU
However, coach Hung has recently expressed his concern at the lack of quality footballers at the upcoming Viet Nam's top-tier V-League 2022 which is slated to take place from February 19 until mid-November.
Before the recently-concluded Quang Trung Emperor Cup at the Quy Nhon Stadium in Binh Dinh Province, the home team had signed contracts with two Serbian players, namely Ivan Mavic and Filip Kenezevic.
But right after this tournament ended, SHB Da Nang only decided to only keep midfielder Ivan Mavic and terminate its contract ahead of time with midfielder Kenezevic who has not yet to meet the requirements of the coaching board.
Coach Hung said "Due to COVID-19, we have found it difficult in recruiting foreign footballers. Even many football players only accept to go to Viet Nam to sign contracts and officially play for the team without undergoing probationary period. This makes it difficult for the team, because not all foreign players have good quality or are suitable for the team's playing style. Therefore, we are now asking brokers to continue to introduce some more foreign players so that the coaching staff can have a suitable selection.
Coach Hung expressed his confident at the existing force of domestic players, namely Nguyen Sa, Huy Hung, Hoang Quang, Hoang Minh Tam, Tuan Manh, Phan Van Long, Phi Hoang and Lieu Quang Vinh who all meet professional requirements.
Currently, the local football club is in need of 2 quality foreign players to build a strong attacking line.
It is known that as per the request from the SHB Football Club, starting from January 20, 4 foreign players will undergo probationary period at the SHB Da Nang Football Club.
Most prominent among them is Croatian striker Petar Sliskovic who used to play for FSV Mainz 05 II and MSV Duisburg in the German 3.Liga league from 2018-2020.
In addition, striker Ighodaro Christian Osaguona from Nigeria, who played for Al-Shorta club at the Iran Pro League 2020, is expected to come to play for SHB Da Nang in the near future.
Also related to personnel issues, SHB Da Nang Club President Bui Xuan Hoa couldnot hide his worries about the lack of quality foreign players for the SHB DN's squad. He added the club is now actively looking for a quality foreign striker for the new v-league season.
However, coach Hung plans to recruit a number of players who have played for other V-League clubs and have demonstrated professional competence in order to prepare for the forthcoming v-league season.
President Hoa, therefore, hoped that, in the coming time, coach Hung can solve the current difficulties to help SHB reach their target of finishing in the top 3 of the 2022 V- League.
Reporting by BAO AN - Translating by M.DUNG
.