Efforts to gain outstanding achievements at municipal-level Sports Games
June 21, 2022, 10:17 [GMT+7]
Till date, Da Nang's districts have been organising local versions of the 9th municipal-level Sports Games in a bid to select talents and excellent athletes to compete in the municipal-level sports event which is set to take place from July 3 - September 16.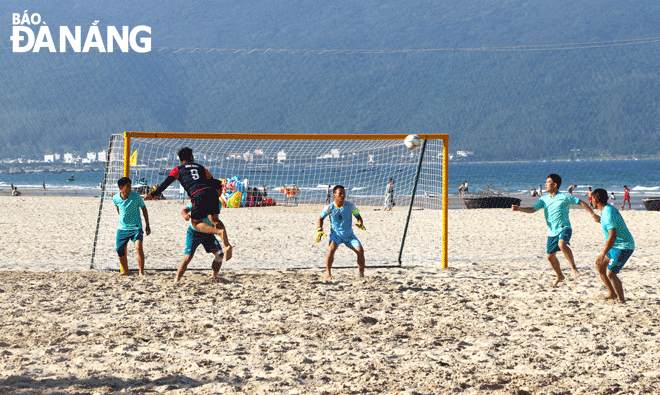 Athletes competing in the men's beach football within the framework of the 9th Da Nang Sports Games. Photo: P.N
Mr. Tran Van Manh, Director of the Culture and Sports Centre of Hai Chau District, said that the district-level Sports Games took place in March 2022.
"Hai Chau District is the first locality in the city to have organised a district-level Sports Games after COVID-19 is under control. The locality has set a target of becoming one of the leading units in the field of sports" said Mr. Manh.
Not only Hai Chau District, other localities are also determined to achieve high results at the upcoming sports event.
According to Mr. Huynh Ba Duong, Deputy Director in charge of the Culture and Sports Centre of Ngu Hanh Son District, the goal of the district delegation is to finish in the top 3.
As planned, the opening and closing ceremonies of the 9th Da Nang Sports Games will be held at the city's Tien Son Sports Arena on July 3 and September 16 respectively.
About 3,000 athletes will compete in 21 sports, and ethnic and modern disciplines. The time and venue of each kind of sports and discipline will be according to their specific regulations.
The event's organisers only organise competitions and award medals to the sports in which at least 3 athletes or 3 teams from 3 or more units register to participate.
Also, the organisers will base on the medals table to evaluate the competition results of individuals and groups. Only the units competing in at least 18 sports and disciplines will be ranked in the whole group category.
According to Mrs. Le Thi My Hanh, Head of the Sports Management Office of the municipal Department of Culture and Sports, so far, a number of sports within the framework of the Sports Games have been organised. Included are Chinese chess, chess, a cross-country race, table tennis, billiards, traditional martial arts, vovinam, men's and women's indoor volleyball, men's and women's beach volleyball, men's beach soccer, men and women's futsal.
Currently, the Hai Chau District delegation take lead at the competition with 13 gold, 12 silver and 16 bronze medals. They are followed by Thanh Khe District with 12 gold, 11 silver and 10 bronze medals, Ngu Hanh Son District with 7 gold, 7 silver and 9 bronze medals, and Son Tra District with 7 gold, 5 silver and 7 bronze medals.
After the opening ceremony, the remaining sports will continue taking place, promising an attractive and fierce competition for participating units.
Reporting by PHI NONG - Translating by M.DUNG
.