Rural cultural development in Da Nang
June 13, 2022, 15:59 [GMT+7]
Cultural criteria play a vital role in building new-style rural areas, thereby contributing to improving the quality of life and enriching the spiritual life of people.
Identifying cultural criteria as the foundation and driving force for its development, Hoa Vang District has been promoting activities and movements to gradually bring people's culture and lifestyle towards an urbanism.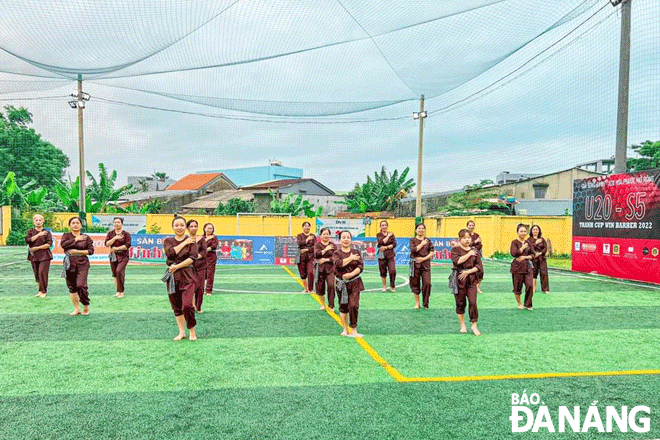 A dance performance by local residents of Hoa Tien Commune. Photo: XUAN DUNG
Culture considered as foundation of
In recent years, Hoa Vang District has been focusing on conserving and promoting cultural values when implementing the national target programme on building new-style rural areas.
According to the Hoa Vang District authorities, up to now, 11 communes in the district have met meet the criteria of 'new-style' rural areas. Particularly, a districtwide system of cultural institutions has been developed, whilst cultural and sports activities have been maintained and organised regularly. This has created a high consensus among locals, serving as a foundation for the district to continue implementing a programme to building enhanced rural areas during the 2021-2025 period.
In 2021, Hoa Phuoc Commune is one of three localities to have achieved all 19 criteria for building advanced new-style rural areas. In particular, the criteria in the field of culture are always receiving special attention from local authorities and people.
Mr. Le Viet Tan, a cultural officer of Hoa Phuoc Commune, said that three historical and cultural relic sites in the commune have been restored and embellished by the municipal and local authorities in 2020 and 2021.
In addition, a system of cultural institutions in the commune has been comprehensively invested to meet the standards of new-style rural areas with one stadium and 2 libraries.
All 10 villages in the Hoa Phuoc Commune have cultural houses and sports areas to serve the needs of local residents.
Up to now, 9 out of the 10 villages in the commune have won the title of cultural village status. Three of them have met standards of model cultural village.
Mr. Tan emphasised that every year, the commune maintains a celebration of longevity for the elderly. This humane activity shows the government's interest in taking care of people's lives.
"We are very excited and happy when our homeland is increasingly changing in a positive direction. Currently, outdated customs and superstitions have almost been eliminated. The cultural and civilised way of life is always respected and promoted by the people in the commune" said Mrs. Phuong from the Nhan Tho 2 Village in Hoa Phuoc Commune.
Inheriting and developing new style rural culture
Hoa Vang District's Hoa Tien Commune is also a prominent locality in implementing cultural criteria in the building of new style rural areas.
Residents in the commune regularly take part in cultural and sports activities, as well as well implement the regulations on wedding and funeral organisation.
According to Chairwoman of the Hoa Tien Commune People's Committee Nguyen Thi Thanh Tam, over the past 3 years, the percentage of villages meeting cultural standards has always maintained over 70%, and that of cultural families at more than 90%.
In the commune, there is a sports centre and cultural house built on an area of ​​​​about 10,000m2 in order to fully meet the demand for sports and cultural enjoyment.
Head of the Hoa Vang District Office of Culture and Information Do Thanh Tan said that during the 2021-2025 period, the district would concentrate on implementing the project on building cultural life in Hoa Vang District to 2025 and the following years.
Also, importance will be attached to building community centres for culture and sports in the communes, as well as upgrading a system of village cultural houses and amusement parks.
Reporting by XUAN DUNG - Translating by M.DUNG
.