Summer Camp for children: ideal rendezvous for studying, playing
June 21, 2022, 17:45 [GMT+7]
After 2 years of hiatus due to the COVID-19 pandemic, Da Nang Children's Palace has restarted the "Experience to grow up" programme in the summer of 2022 to create a healthy, useful and meaningful playground for the city's children.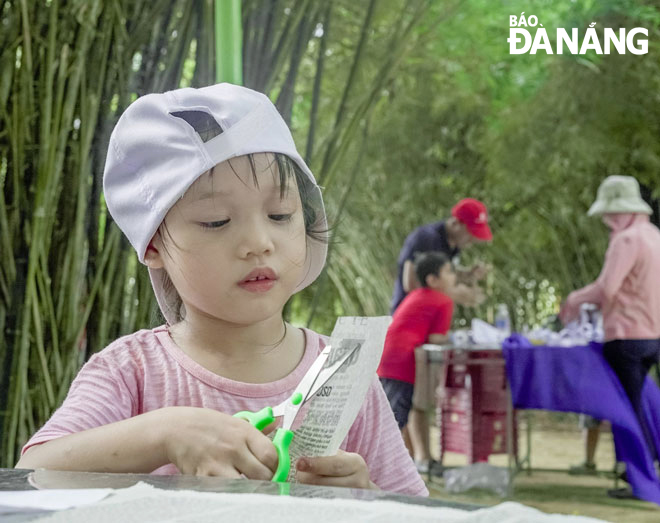 A young student participates in the summer camp programme 'Experience to grow up' organised by Da Nang Children's Palace. Photo: H.L
The Da Nang Children's Palace will organise 3 experience courses for children aged 7 - 15, every 2 days, to selected locations such as Thua Thien Hue Province, Hoi An City in Quang Nam Province and Hoa Bac Commune, Hoa Vang District, Da Nang.
Opportunity to help your child become independent
Nguyen Ngoc Diep Khanh, a fifth-grader in the Le Lai Primary School, Hai Chau
District said that she is looking forward to the day she can join the summer camp organised by the Da Nang Children's Palace. This is the second time Khanh has joined the Children's Palace summer camp after a two-year hiatus due to COVID-19.
Khanh said, in the summer of 2019, her parents registered her to participate in 3 experience courses in such places as Hoi An, Lai Thieu eco-tourism area and Thua Thien Hue Province.
In each course, Khanh had the opportunity to learn more about interpersonal interaction skills, integration, nature experience, folk games, team building, folk dance and also other daily-life skills in arranging pillows, clothes and personal hygiene.
"The trip in 2019 was very fun, so I am eagerly waiting for the experience programmes launched by the Da Nang Children's Palace during the ongoing summer. More recently, I joined a trip to Thua Thien Hue Province on June 18 and 19. Under the plan, I visited Thanh Tien paper flower craft village, Sinh village folk paintings and was guided by artisans to make paper flowers, print pictures and draw paintings", excitedly said Khanh.
Similarly, Tran Van Manh, a student at Trung Vuong Secondary School, Hai Chau District said that will join the coming 2-day 'Nature experience' programme organised by the Da Nang Children's Palace in Hoi An ancient town.
Manh said, "This is my first time participating in a summer camp, so I'm looking forward to the day of experiencing the trip. My family has been to Hoi An a few times, but going with friends of the same age, learning some more skills will definitely be much more interesting."
Wanting her children to have a space to play and study at the same time, Do Thi Thu Hien, Nguyen Ngoc Diep Khanh's mother, said that she carefully researched the contents of the summer camp's activities and decided to let her children participate them properly.
This summer, Hien has registered her children for all 3 courses with a total budget of nearly VND4 million. According to Hien, this is an opportunity for her children to continue to experience and learn life skills as well as how to behave and communicate with adults.
"In my opinion, the content of the 'Experience to grow up' programme is very useful, safe, and healthy for children. The teachers, in addition to teaching skills, also pay special attention to the health and fitness of the children", said Hien.
Accumulating knowledge and soft skills
Summer camp is dubbed as a good environment for children to have the opportunity to exchange, experience, accumulate knowledge and become more mature without their parents around.
Ms. Ngo Thi Ngan Ha, Head of Team Methodology Department, Standing Deputy Head of the 'Experience to grow up' programme launched by the Da Nang Children's Palace said that the goal of summer experience activities is to enhance social practice skills for students, helping form a positive personality and outlook on life.
"Through such a programme, we wish to contribute to helping children arouse the love for family and community, creating teamwork skills, building useful habits in communication, community activities and study as well", said Ha.
It is known that each summer experience course launched by the Da Nang Children's Palace lasts 2 days, drawing the participation of 100 students. Each course carries a theme, ensuring diversity and richness for experiential activities.
Participants are in good health and they are advised against bringing computers, electronic toys and assets valued at more than VND200,000 with them.
The programme ensures a high level of experience, helping to positively change behaviours such as teamwork skills, child abuse prevention, self-defense and proper use of social networks.
During the participation process, students are not allowed to use cell phones, only allowed to call their families when necessary and accepted by the organisers.
"We also build topics to help children foster positive emotions, mutual understanding, self-confidence and fire prevention skills with the purpose of helping children to be confident, polite and responsible for themselves, their families, the community and society", said Ha.
Reporting by HUYNH LE – Translating by A.THU
.