Useful and engaging activities for children to experience
June 07, 2022, 17:28 [GMT+7]
These days, in addition to the knowledge learned in school, community classes and experiencing wild nature help children gain more practical skills and confidence, thereby contributing to the formation of their personality, intelligence and emotions.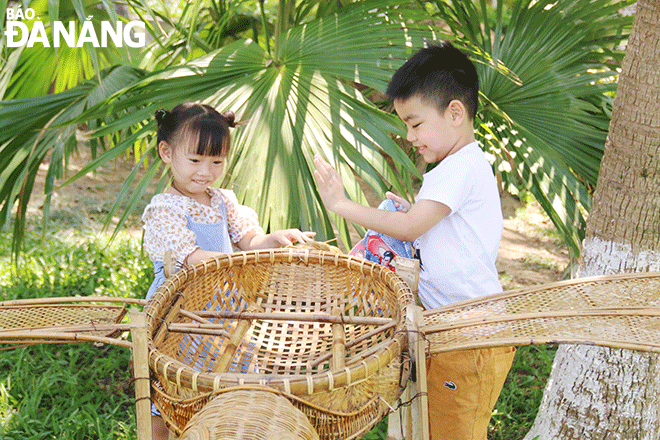 The education of life skills and contact with nature plays an integral role in the formation of children's personality, intelligence and emotions. Photo: THANH TINH
Promoting creativity and practising life skills
On every weekend, the Hoa Bac Community Development Research Team has organized a "Weekend Class" for children aged 7 to 12 in the city to study and experience nature in the closest and most authentic way.
9-year- old girl Alice ( her real name is Hoang Yen Chi), residing in Hoa Thuan Dong Ward, Hai Chau District eagerly expressed that in the "Weekend Class", she is exposed to nature, and learns how farmers grow rice and beans, how people make Quang noodles, vermicelli, banh xeo. After each class, she finds herself more mature and has more love for nature, friends and family.
According to Mr Hoang Van Long, Alice's father, extracurricular activities at school have not met enough children's demands to experience and explore. Therefore, on weekends, he often takes his daughter to the countryside to study, promote creativity and practice life skills. This is also a way for children to nurture childhood emotions.
"Weekend classes" are not only organized in the classroom but also often held outdoors. Classrooms have no tables and chairs, and students even sometimes have to put notebooks on their laps to take notes. However, they have always been eager and looking forward to the weekend to participate.
As shared by Dr Chu Manh Trinh, Head of the Hoa Bac Community Development Research Team, the weekend class not only provides children with knowledge through visiting and understanding forest, river and field ecosystems but also forging teamwork skills via making cakes, cooking and other interesting activities.
The class also helps children to be creative through games, drawing pictures or increasing their presentation ability through presenting ideas on a certain topic. In addition, the children also have the opportunity to do physical exercise together when walking, cycling, bathing in streams, collecting waste on the riverbank, sorting waste together or planting trees and flowers.
All activities to experience nature make children excited, open their curiosity as well as increase creativity, and regenerate energy for children to start a new school week.
Creating conditions for children and parents to bond more
After a period of hiatus due to the pandemic, at the beginning of April 2022, Wildtrek Travel Service Joint Stock Company reopened "Lovely Weekend" classes for children aged 8 and older to learn survival skills outside.
Accordingly, children have to conquer 5km of forest roads with a bunch of different terrains to help them have better reflexes and skills. In addition, children also learn how to handle when lost, how to prevent drowning, make a fire, and find food to survive in the forest. Moreover, they also prepare their food and experience eating, sleeping, and watching movies about the wild world in the middle of the forest.
As shared by Mr Ngo Khai Hoang, General Director of Wildtrek Tourism and Service Joint Stock Company, picnics combined with learning survival skills in the wild have helped children better their understanding of the importance of forests for the ecosystem in general and human life in particular. Sometimes children can participate with parents to experience.
During the picnic, Wildtrek regularly updates children's activities and shares photos of the trip so that parents can accompany their children even when they are not around.
Through the programme, Wildtrek wishes that parents and children are more connected and understand each other better. On top of that, parents will have a better understanding of the importance of nature for the comprehensive development of their children.
Forming a love for nature
From March 15, the Nature Dance Education and Experience Centre (Green Viet Green Water Biodiversity Conservation Centre - GreenViet) reopened to serve children to experience Son Tra's nature with numerous interesting and useful activities.
All programs are aimed at helping children understand the diversity, abundance and importance of plants and animals in Son Tra Peninsula, helping children form a love for nature from an early age, and at the same time develop thinking, forming and nurturing feelings about nature
Along with the rapid development of the urban area, the models "Weekend classes", "Lovely weekends", "Explore Son Tra nature, watch the brown-shanked douc langur" of the Hoa Bac Community Development Research Team, Wildtrek Tourism Service Joint Stock Company and Nature Dance Education and Experience Centre have helped children better understand nature, equip children with practical survival skills. More importantly, these also help children to be more confident and safe on long trips and in wild nature.
Reporting by THANH TINH- Translating by T.VY
.