Artisan with great passion for time-honoured craft of making 'to he'
August 07, 2022, 14:45 [GMT+7]
Artisan Nguyen Van Kinh, 57, residing in Da Nang, has a great passion for the traditional craft of 'to he' - toy figurines that are made of rice dough.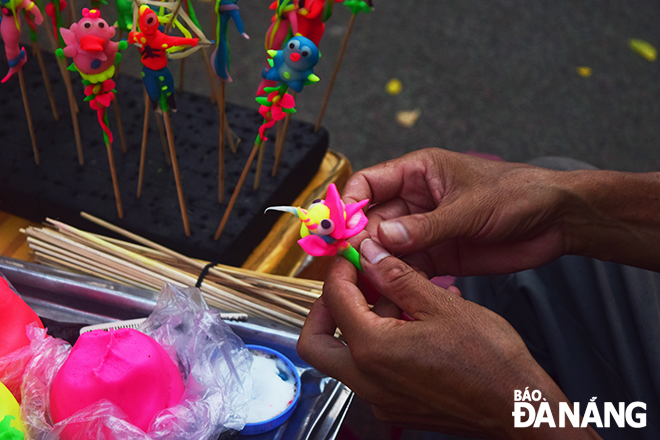 The shaping of 'to he' is a complicated and meticulous process.
According to Mr. Kinh, not everyone knows about 'to he', so he is very proud of his traditional craft because it not only generates income for himself but also introduces the Vietnamese folk toys to everyone.
The middle-aged man was born into a family that has been making toy figurines for many generations in Xuan La Village, Phuong Duc Commune, Phu Xuyen District, Ha Noi, which is one of the cradles of the traditional 'to he' craft village, so he was familiar with the craft from a very early age. He remembers being a small boy and following his mother to sell the colourful toys at local markets.
Mr. Kinh said that the shaping of the folk toys requires artisans to be meticulous from preparatory to shaping works. These toys are made of rice dough mixed with natural ingredients for colouring. The dough balls are placed in separate plastic bags and sealed to keep them from drying out. Finished rice dough must have plasticity and be not sticky to the hands.
It takes artisans from 1 - 3 minutes to create a toy figurine depending on its complexity and simplicity.
He said, in the past, making 'to he' was the main occupation of the whole Xuan La villagers, but now the number of young villagers pursuing the craft is quite modest. With the desire to maintain the traditional craft of his village, Mr. Kinh has been active in teaching his children and grandchildren over the past time.
Artisan Kinh usually sells 'to he' in front of school gates citywide from Mondays to Saturdays between 6:00am and 7:00am daily, and at local night markets or areas near the city's APEC Sculpture Park in the evenings of these days. Particularly on Sundays, he crafts and sells toy figurines at the March 29 Park because this venue is crowded with visitors on weekends. Just like that, the man has brought 'to he' to Da Nang's locals and visitors over the past 20 years.
With a desire to partly contribute to spreading traditional values, Mrs. Nguyen Thi Phuong Thuy, who works as a teacher at the Baby Shark Kindergarten based in Ngu Hanh Son District, has just invited artisan Kinh to perform the shaping of 'to he' at her school in the upcoming Mid-Autumn Festival.
According to Mrs. Thuy, 'to he' are traditional toys of the Vietnamese people, and they are made of natural ingredients and are non-toxic for children. These simple and close values need to be aroused among children from an early age. Therefore, Mrs. Thuy has also repeatedly invited artisan Kinh to her school to make 'to he' and advertise the folk toys to preschoolers on some special occasions.
Although it was only the first time that she has seen 'to he', Nguyen Phuong Thao, 12, living in Lien Chieu District felt the folk toys were very familiar to her. Thao expressed, when holding toy figurines in hand, she felt something very close, and seeing the bright colours and skillful shaping of 'to he' made her happy.
For more than 30 years sticking with the craft, artisan Kinh has spread his love of 'to he' to many people in tandem with preserving and cherishing Vietnamese values and the culture of the Xuan La craft village where he was born.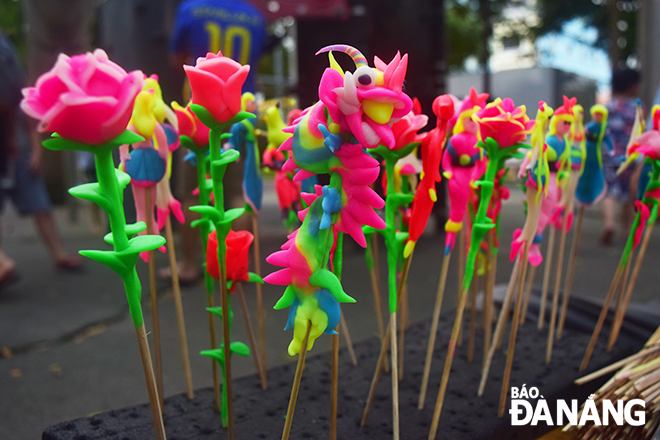 The folk toys are sold for around VND20,000-VND30,000 each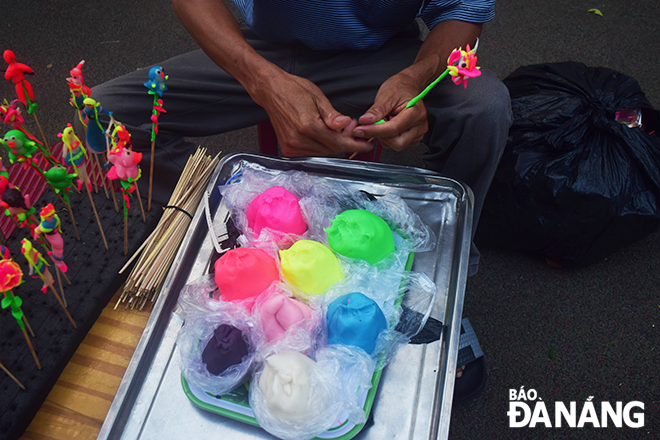 Although there are currently many different types of powder on the market, artisan Kinh still uses glutinous rice dough to make 'to he'.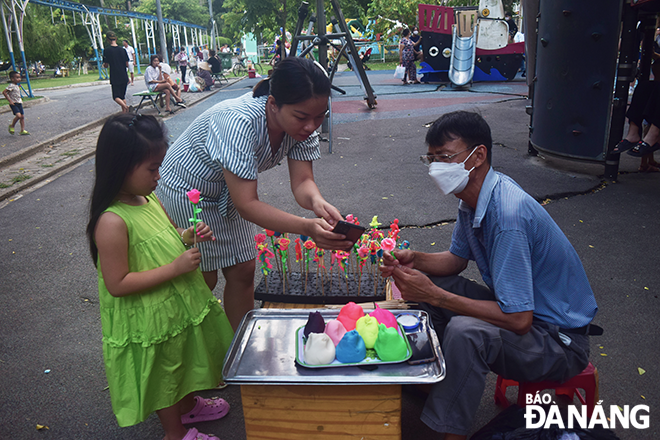 Mrs. Nguyen Thi Phuong Thuy (in striped shirt) is inviting artisan Kinh to perform the shaping of 'to he' at her kindergarten.
Reporting by THU DUYEN – Translating by M.DUNG
.