Da Nang athletes carefully preparing for upcoming 9th National Sports Games
August 09, 2022, 17:46 [GMT+7]
Athletes of Da Nang's sports teams have been maintaining regular practice after returning from SEA Games 31 in anticipation of the forthcoming 9th National Sports Games which is slated for mid-December 2022 in Quang Ninh Province.
In order to achieve high results at the big sports event, the city's sports sector has created the best conditions for local athletes to participate in training courses at home and abroad.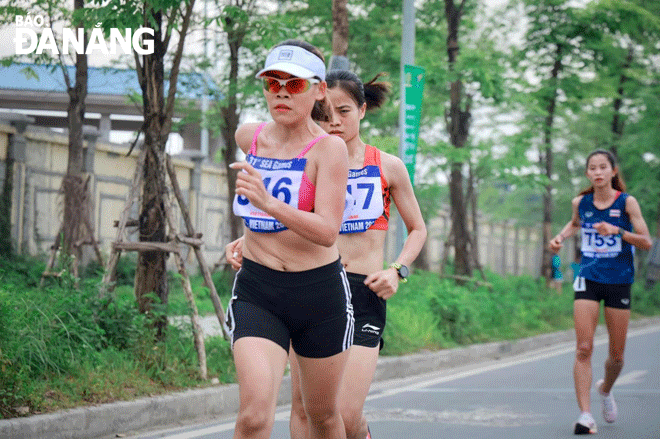 'Walking Queen' Nguyen Thi Thanh Phuc (top) is one of the golden hopes of the city's sports delegation at the 9th National Sports Games in 2022. Photo: P.N
Efforts to practice
In the past few days, members of the city's weightlifting team have been practising at the Da Nang Athlete Training and Coaching Centre.
Weightlifter Nguyen Thi Kim Van, one of the 'golden hopes' for the city's sports team, said she maintained the physical practice from 9:00am - 11:00am, and from 3:00pm - 5:00pm daily.
Training is a must-do for high-performing athletes. Each member of the city's weightlifting team has their own lesson plan to maximise their own abilities, she added.
"I broke three national records at the previous sports event, so this time I am determined to pocket three gold medals in all 3 women's 87kg events of snatch, clean and jerk and total" confided Kim Van.
According to coach Phan Van Thien, the city's weightlifting team has 16 athletes. Besides Kim Van, other weightlifters such as Le Cong Vu, Nguyen Van Duc and Tran Le Quoc Toan are expected to achieve high achievements at the upcoming sports event.
"Local weightlifters are facilitated to take part in concentrated training courses and daily activities at the Da Nang Athlete Training and Coaching Centre. The well-equipped facility helps them feel secure to practice and improve their abilities" said coach Phan Van Thien.
Along with weightlifting, rowing, athletics and swimming are also the city's strong sports.
Athlete Pham Thi Hue from the city's boat rowing team said that after winning 3 gold medals at the SEA Games 31, she returned to practice to maintain her best form.
"I feel very lucky to participate in a training course in Hai Phong City where many national boat rowers practice. Therefore, I have the opportunity to interact and meet with rivals, as well as develop to the fullest extent of my abilities. My goal is to win 2 - 3 gold medals at the upcoming sports event" Pham Thi Hue said.
With the same determination as Pham Thi Hue, Nguyen Thi Thanh Phuc, who is known as the 'walking queen' of Vietnamese athletics, strives to practice every day to concretise her goal of claiming a gold medal at the upcoming games. This is not a difficult goal for Thanh Phuc, because from 2016 until now, she has no opponent on the track in the national championships.
Creating all best conditions for athletes
According to Nguyen Dong Hai, the Director of the Da Nang Athlete Training and Coaching Centre, in addition to the centre, athletes are facilitated to practice at locations suitable for each type of sports such as the Chi Lang Stadium, the National Sports Training Centre, the Dong Nghe Lake, and the East Sea Park.
Also, athletes have had the opportunity to participate in short-term training courses at home. Particularly, the swimming team is currently training in Tien Giang Province, diving team in Quang Ninh, and boat rowing team in Hai Phong. In the near future, the weightlifting team will be facilitated to train in Hai Phong.
Mr. Nguyen Trong Thao, Deputy Director of the municipal Department of Culture and Sports, the city's sports delegation is expected to compete in 26 out of the 43 sports at the upcoming 9th National Sports Games. The city sets a target of finishing in the top 5.
Reporting by PHI NONG - Translating by M.DUNG
.