Karate development movement in Da Nang
August 05, 2022, 16:12 [GMT+7]
In recent years, karate practice movements at grassroots level have been developing strongly in Da Nang, paving a way for local karate fighters to exchange and develop to their fullest potential, and for the city's sports industry to regularly organise karate tournaments and select talents for the local team as well.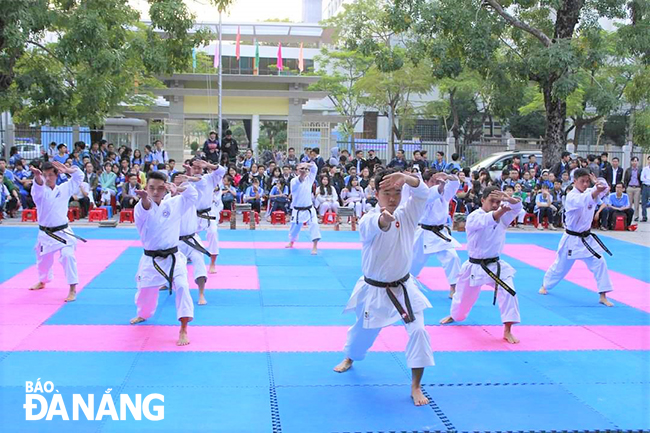 Recent years have seen a strong development of grassroots karate movements in Da Nang. Photo: P.N
The Karate Club of the Da Nang University of Physical Education - Sports is one of the strong karate clubs in the city with a large number of members. The club members maintain regular practice every day in the afternoon.
As shared by the club's coach Le Hoang Trinh, his club has more than 150 members of different age groups. The club regularly enrolls trainees to maintain its operation. Children aged 6 years old and above who show keen interest in this type of martial arts can become a member of the club and will be trained by highly qualified coaches.
"Karate is a popular martial art, so the club attracts a large number of trainees every summer. Thanks to its convenient facilities, the Karate Club of the Da Nang University of Physical Education - Sports has become a reliable place for parents to send their children to study and practice. After practices, many young people gradually have a great passion for this martial art and stick with the club for a long time" said coach Le Hoang Trinh.
In a similar vein, the regular karate practices and competitions have been reported at the Karate Club of the Hai Chau District-based Phan Chau Trinh Senior High School. Established in 2016, the Phan Chau Trinh Senior High School's Karate Club is increasingly becoming an attractive destination for school pupils citywide to increase physical activity exchanges.
According to Chairman of the Club Duong Thanh Hung, the club was established following the city's policy on promoting the development of school sports.
In recent years, the club has witnessed a significant increase in the number of its members. The club's members have been facilitated to compete in competitions at all levels, and some of them have gained certain successes. Besides schools, the karate movements have been developed widely across the city.
According to Mr. Nguyen Ngoc Anh, Deputy Director of the Hai Chau District-based Centre for Culture - Information and Sports, the district has always created the best conditions for local karate clubs to operate and develop in order to promote the strong development of mass sport and physical training movements.
Up to now, the district is house to more than 10 karate clubs, such as Thuan Phuoc and Nam Duong.
Thanks to the strong development of karate movements at grassroots, the district has selected talents for its karate team.
Most recently, members of the district's karate team have claimed 3 gold, 2 silver and 1 bronze medals in the men and women's boxing and fighting events at the 9th municipal-level Sports Games.
Assessing the development of karate movements citywide, Mr. Nguyen Khanh Hien, Vice Chairman of the Da Nang Karate Federation, said that thanks to the special attention and investment from the units and localities, the development of karate movements in the city have been promoted step by step in recent years.
Not only in the city centre, karate clubs in remote communes of Hoa Vang District such as Hoa Ninh, Hoa Tien and Hoa Phong have been operating effectively and becoming a useful playground for young people.
According to Mr. Tran Cong Tu, Director of the municipal Sports and Physical Training Centre, there are nearly 50 karate clubs with thousands of members in total in the city. Every year, the centre facilitates club members to compete in municipal-level karate competitions.
"In the time ahead, our centre will organize more tournaments for members of karate clubs across the city to enhance exchange activities and learn about competition experience each other", noted Mr. Tran Cong Tu.
Reporting by PHI NONG - Translating by M.DUNG
.