Promoting preservation of Co Tu ethnic culture
August 06, 2022, 13:28 [GMT+7]
Since 2018, the Da Nang government has paid special attention to restoring traditional cultural values of the Co Tu ethnic community in Hoa Bac Mountainous Commune, Hoa Vang District ​​in the hope of making it a driving force of local economic growth.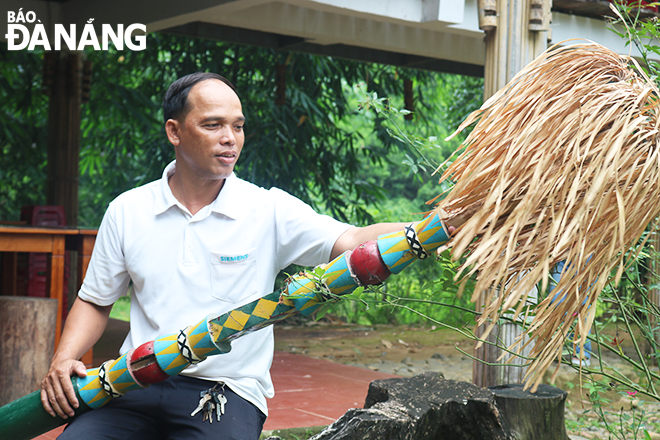 Gian Bi Village Party Organisation Secretary Dinh Van Nhu taking care of a bamboo pole model which is a distinctive feature of the Co Tu ethnic group. Photo: T.Y
Five years ago, Ms Nguyen Thi Lan, the head of the Ta Lang Village Chapter of the Da Nang Women's Union became a leader of the Co Tu Brocade Weaving Group with 20 members. The establishment of this group aims to preserve unique brocade weaving craft of the Co Tu people in line with the guidelines from the Communal People's Committee.
Like other Co Tu women, Ms Lan saw the opportunity to promote traditional culture of the Co Tu people and improve her family economy from the group's establishment. However, Lan found it very difficult to build a group of skilled brocade weavers as brocade weaving of the Co Tu ethnic group living in the upper Cu De River has been lost. In addition, many Co Tu women were not very interested in returning to looms to weave brocade. Therefore, Ms Lan and communal government officials have been active in encouraging Co Tu women to attend training sessions on brocade weaving. In its efforts to encourage Co Tu women to stick to their traditional weaving profession, Hoa Bac Commune People's Committee has exerted every effort to seek customers and receive their orders.
Ms Lan said that it took more than a year to make Co Tu women feel confident in their brocade products with colourful and eye-catching patterns.
Hoa Bac Commune People's Committee Vice Chairman Ho Phu Thanh, said that the Da Nang Department of Labour, Invalids and Social Affairs has coordinated with the Municipal Cooperative Alliance to deliver training courses on the traditional craft of bamboo and rattan weaving to the Co Tu people since 2015. However, their bamboo and rattan products are being mainly used for exhibitions and music performances in the locality, thereby not generating regular income for the Co Tu people.
The main reasons were mainly attributed to undiverse and uncommon design of bamboo and rattan products, high prices due to the handmade nature of of these products, causing difficulty in promoting these products.
Creating resources for economic development
The Hoa Vang District People's Committee has deployed the "Building a model of community-based ecotourism to conserve biodiversity and create sustainable livelihoods for the Co Tu people" project in the two villages of Ta Lang and Gian Bi since 2015 with a focus on preserving and promoting the culture identity of the Co tu ethnic minority group.
Mr. Ho Phu Thanh said that the heed has been paid to reviving traditional crafts, traditional dances like the Gong dance, telling the story of Co tu ethnic minority village in order to improve visitors' experience. In addition, such traditional foods of the Co Tu people such as stream snails, Ruou Can (rice wine drunk out of a jar through pipes), buffalo horn cake, Com Lam (steamed sticky rice in bamboo pipes), 'buffalo meat hung up in kitchen' (otherwise known as smoked buffalo meat), wild banana flower salad, sour bamboo shoots are available to visitors to try.
With its goal of developing local tourism human resources, Hoa Bac Commune People's Committee has established 8 tourism service groups which consist of 62 households. Included are groups offering the following services: Gong dance, food, trekking, bamboo and rattan knitting, the folk singing, brocade weaving, and narration. Besides, two community-based ecotourism cooperative groups have been set up in Ta Lang and Gian Bi villages, and these groups have seen the participation of dozens of local households. These groups have already attended free English speaking courses and other courses to help them improve their skills in ecotourism operations and environmental protection, as well as create green landscapes.
Meanwhile, the Gan Bi Village Party Committee Secretary Dinh Van Nhu highlighted the importance of tourism development in combination with the preservation of national cultural heritages in helping local people stabilize their lives and create sustainable livelihoods for them. Therefore, he boldly borrowed hundreds of millions of dongs from a bank to build a homestay to serve guests two years ago. Located near a stream, Mr Nhu's around 700 square-metre homestay is also a place to display such traditional products of the Co Tu people as bags and baskets made of hand-woven rattan and bamboo, bamboo pole model which is a distinctive feature of the Co Tu ethnic group, sour bamboo shoots and string Tea bags.
Furthermore, Mr Nhu has worked with local tourism service groups to organize fun and entertainment activities for its guests in addition to helping them explore the culture and food of the Co Tu people. Mr Nhu expressed his delight at fruitful results from the preservation of traditional cultural values of the Co Tu people and engaging local residents in conservation activities in addition to economic value brought to them.
It can be said that the ugrade and expansion of the section DT601 running from the Hoa Bac Commune People's Committee headquarters to Ta Lang and Gian Bi villages have opened up new opportunities for the Co Tu people to improve their family economy. In Gian Bi village, a homestay of Mrs Zo Ram Thi Hong's family is nearing completion with her hope of protecting and preserving indigenous culture of the Co Tu people. After Mrs Hong's homestay opens its doors to the public, visitors to Hoa Bac Commune will have more choices of accommodation and more opportunities to explore the cultural identity of the Co Tu ethnic group.
The local leaders will continue their efforts to promote the development of ecotourism with high priority given to encouraging local people to revive their traditional crafts, organise entertainment activities, sell souvenirs and handicrafts in combination with introducing local traditional foods. Besides, heed will be paid to turning Detoxing Herbal Steam Baths and Herbal Saunas into local typical tourism products to serve tourists in the coming time.
Reporting by TIEU YEN – Translating by H.L
.