Developing tourist attractions in Hoa Vang District
Published: October 30, 2015
Over recent years, many domestic and foreign visitors arriving in Da Nang have been attracted to the rustic tourism products and tourist sites in Hoa Vang District.
About 20 km west of the city, the 186ha Hoa Trung Lake in the district's Hoa Lien Commune boasts a peaceful and simple charming beauty with numerous artificial floating islands and smooth green grass. During the days of shallow water in the summer, the lakeside area is larger and looks like a vast and quiet steppe.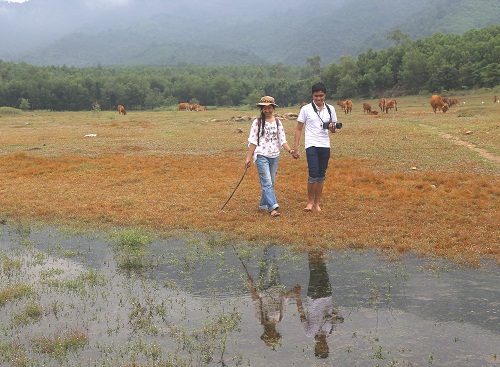 Visitors at the beautiful Hoa Trung Lake
According to a Vietnamese website, this place is as beautiful as the renowned Mongolian-Manchurian steppe. Thanks to its impressive beauty, the lake has now become very popular with residents from Da Nang who want to take part in outdoor activities or stay overnight here with their friends and family members.
In addition to the peaceful lake, the district is famous for around 100 ancient houses which are all over 100 years old. Amongst them, the 200-year-old Tich Thien Duong house in Hoa Nhon Ward's Thai Lai Village has become a must-visit place.
The Tich Thien Duong ancient house
This house keeps intact some of the unique architectural characteristics of an ancient traditional Vietnamese house, including a moss-covered roof, sophisticated carved patterns, and east and west-facing rooms in accordance with the ancient Oriental architecture. In addition, many old utensils are kept in the house, such as a flour mill, rice mortar, cake mold and coal iron, and these reflect the rural life of the past.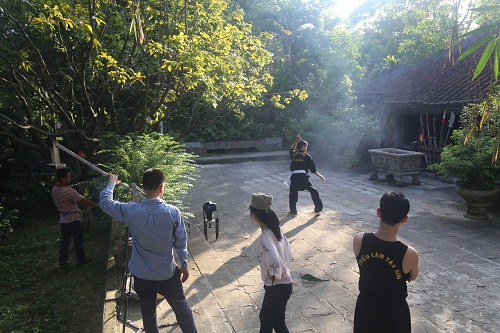 A scene from a VTV documentary on Vietnamese traditional martial arts being filmed at the house
A group from the municipal Department of Culture, Sports and Tourism and other local relevant agencies recently surveyed the new tourism products in Thai Lai Village. The intention was to find ways to boost the development of the local river tourism with the aim of starting a new boat tour, developing new tourist attractions, and building a trip boat pier there.
The Han River-Tuy Loan Village-Thai Lai Village sightseeing boat tour will provide an opportunity for visitors to enjoy the beauty of the city's bridges across the river, the La Huong vegetable growing area in Cam Le District, the Tuy Loan Village Communal House, the Tich Thien Duong house, and numerous fruit-laden orchards in Thai Lai Village.
In an attempt to develop tourism products featuring the special characteristics of the land and people of Hoa Vang District, Mr Nguyen Thuc Dung from the district's Culture and Sports Office stressed the need to make the existing popular tourist sites more attractive to both domestic and foreign visitors. Top priority should be given to promoting community-based eco-tourism in Thai Lai Village because this type of tourism will prove effective in this rural area.





.