The endangered Vietnamese doucs of the Da Nang peninsula
Published: March 16, 2016
A visit to Son Tra Peninsula, part of Da Nang on the central Vietnamese coast, offers more delights than one can expect, including the chance to admire the gorgeous red-shanked douc.
Seven kilometers from Da Nang, Son Tra offers tourists a pristine seascape away from the city's hustle and bustle.
Travel along the beachside Hoang Sa Street until one reaches a wall of taluses featuring almost one hundred monkey statues.
Take out cameras and catch a good glimpse of 'Vooc ngu sac,' or red-shanked douc, monkeying around amidst the luxuriant foliage of Son Tra Mountain.
Considered the 'queen' of the primate world, the endangered douc boasts a distinctive coat of five different colors.
The animal usually sports maroon-red 'stockings' from its knees to its ankles, and appears to wear white forearm length gloves. Its attire is accentuated by black hands and feet.
Its golden face is framed by a white ruffle neck which is considerably fluffier among males, while the tail is normally white with a triangle of white hair at the base.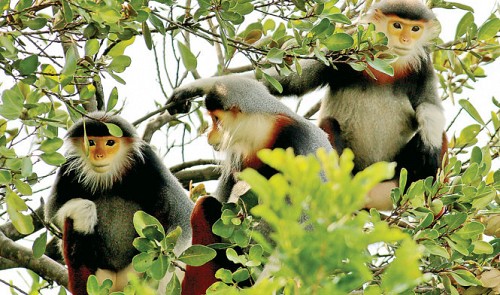 A family of "Vooc ngu sac" (red-shanked doucs) in Son Tra Peninsula, a popular scenic spot in Da Nang. (Photo: Tuoi Tre)
Son Tra Mountain is made up of three peaks, with the highest standing 700 meters above sea level, with paths forming for tourists to trek on in search of the elusive animal.
Recently, amidst the heavy fog that rolls in from the sea, a herd of doucs were spotted dangling from one branch to another.
Though this primate is relatively shy of humans, they live in large numbers throughout the peninsula, making sightings relatively simple.
Doucs usually move around in herds of 10 or more, with one patriarchal male perched on high to keep a close watch on and ensure the safety of the herd, including vulnerable young.
According to experts, the proud primate is native to Indochinese countries, but these days one can only observe them in their natural habitat in Son Tra.
Tourists are encouraged to dress in camouflage, speak and move softly and be patient if they expect good camera shots of the animal.
Trekkers are also asked to move with caution as the area is home to wild boars, deer, weasels, and other sizeable primates.
Several suspension bridges have been erected over roads across the peninsula to ensure the monkeys can get around easily and safely.
Sea diving
Visitors to Son Tra can also be pampered on Eden-like beaches and silky white sand.
Sight-seers can choose to ride on speedboats around the peninsula to explore the seascape and surrounding caves, while thrill-seekers can dive for a rare look at the area's coral reefs.
The richly-colored coral reefs are 2.5 to three meters deep, allowing divers to admire them without the need for scuba gear.
Meanwhile, seafood restaurants nestled at the foot of the mountain provide vacationers with multiple culinary delights to choose from.
Another sight not to be missed is the nationally-recognized heritage site of an 800-year-old banyan tree that stands 22 meters tall.
Well known in the area, it has become a popular resting place for trekkers who can sit comfortably beneath its huge foliage.
In addition, tourists should not miss the structure featuring a male fairy and Chinese chess board 700 meters above sea level, the highest spot in the peninsula.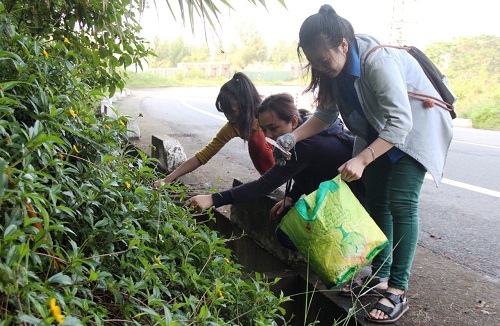 Youths are seen picking up litter on the way to Linh Ung Pagoda in Son Tra Peninsula. (Photo: Tuoi Tre)
Here they can be treated to refreshing sea breezes and a vista of almost the entire city of Da Nang.
Nature enthusiasts will also delight in a visit to Son Tra Tinh Vien, which boasts more than 100 varieties of bamboo; Dong Dinh Museum, the first private cultural museum; and Linh Ung Pagoda.
Nostalgic visitors can indulge in Dong Dinh Museum's 'Memory Garden,' which features vivid re-creations of time-honored garden houses typical of the central region.
According to the management of Son Tra Peninsula and Da Nang beaches, more than half of the tourist attractions in Son Tra are free.
High-capacity motorbikes with the ability to ascend steep slopes are highly recommended.
Tour operators in Da Nang are now offering one-day tours to Son Tra at VND 500,000-600,000 (US$22-27) per person.
Conservation efforts
GreenViet, a Vietnamese animal rights group founded in 2012, has been dedicated to conducting research and raising people's awareness of the biodiversity in the central region and the Central Highlands, particularly the red-shanked doucs calling Son Tra Peninsula home.
In late February 2016, its members published a series of posts on Facebook revealing patches of forest illegally felled without rangers' knowledge in Son Tra Peninsula.
The revelations caught the local authorities' attention and prompted them into action.
The group also called for concerted efforts from the government and local community to secure the long-term survival of wildlife in the peninsula.
"If residents and tourists are all conservation-aware and feel blessed with the presence of the doucs, the primate will thrive," Nguyen Huu Vy, GreenViet director, said.
"Following recent incidents, we now have new partners, including the government, who are ready to carry out necessary action, and of course many nature lovers," he added.
GreenViet has also recently joined hands with the management of Son Tra Peninsula and Da Nang beaches to begin a 'litter picking tourism' program.
At the same time, the Da Nang Department of Natural Resources and Environment has proposed to the municipal People's Committee that red-shanked doucs be selected as the city's symbol of biodiversity.
The department has called for prompt approval of a citywide biodiversity zoning plan for 2016-2025, with a vision for 2040.
The plan includes a proposal to task the municipal Department of Agriculture and Rural Development with measuring and placing landmarks in different areas and adopting measures to tighten management of the Son Tra Peninsula nature reserve.
Following a Tuoi Tre (Youth) newspaper article revealing deforestation by local households, the city's Party Committee has requested that the agriculture department strictly penalize any officials involved.
(Source: Tuoi Tre News)
.