La Tour Eiffel Gallery
Published: March 16, 2017
The La Tour Eiffel Gallery at 277 Tran Hung Dao in Son Tra District is owned by 78-year-old overseas Vietnamese painter Vu Trong Thuan. The gallery is attracting a great deal of attention from domestic and foreign visitors to the city, especially those with a great passion for paintings. The venue opens daily from 8.00am until 5.00pm and admission is free.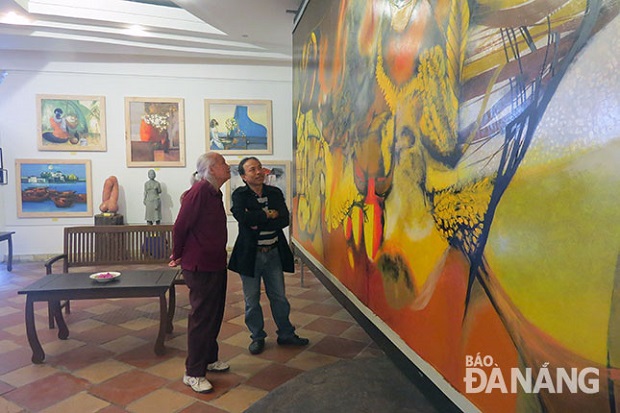 Artist Vu Trong Thuan (left) at his gallery
The gallery is also a place where famous painters from across the country meet and share their mutual experiences, and organise hi-quality arts exhibitions. Included was the 'Late Summer Exhibition' of painter Nguyen Trong Khoi in 2015, and a lacquer painting exhibition entitled 'We' last year which featured 41 works by 68-year-old Japanese painter Yoshifumi Hama and the Vietnamese painters from Hue City Nguyen Duc Huy, Luong Thi Anh Tuyet, and Nguyen Duc Phuoc.
Then, in February this year, the 'Spring' photo exhibition was held at the gallery, and it introduced visitors to beautiful photos by 11 domestic photographers who included Vu Trong Thuan, Tuong Vinh, Le Huynh, Hoang Dang, Vu Duong, Duy Ninh, Nguyen Trung Ky, and Ho Dinh Nam Kha.
Numerous arts creation camps have also been held. A modern lacquer painting camp took place here in 2015 and it attracted 27 professional and amateur painters from Da Nang, Ha Noi, Ho Chi Minh City, and Hue. In addition, last year, the gallery hosted the Da Nang Arts Creation Camp with the participation of 14 famous domestic painters including Vinh Phoi, Ho Huu Thu, Duong Sen, Vu Trong Thuan, and Nguyen Thuong Hy.
There is a visitors' book at the gallery which records valuable feedback from the visitors. Their expressions of love for the venue have become a driving force for the talented painter to continue his efforts in the local arts sector.
Mr Thuan remarked, "I hope that more hi-quality art galleries will be established in the city to diversify the cultural lives of local residents and visitors in the locality".


.