Tien Sa tourist site - a 'pristine fairy' of city
June 01, 2018, 17:24 [GMT+7]
Boasting pristine natural beauty, the Tien Sa tourist site is definitely one of the places you must visit when in Da Nang.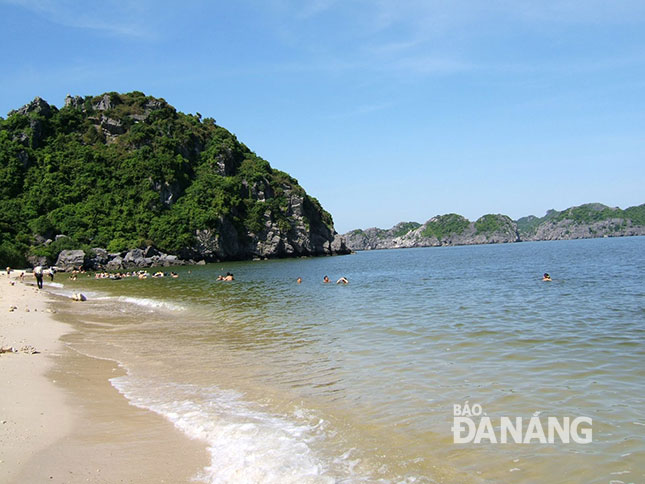 Tien Sa beach
Located on Son Tra District's Yiet Kieu Street, the site is just about 9 km northeast from the centre of the city. Nestled in the Son Tra natural conservation area, it is known for its legendary Mo Coi (Orphaned) Mountain and its poetic Duyen Thuy beach.
The site is in the shape of a mushroom with its head being the Son Tra Mountain and its stem being white sand.
The origin of the name 'Tien Sa' came from a legend associated with the beauty of the site.
Legend has it that due to being fascinated by the beauty of the Son Tra Mountain, fairies called for each other to descend to the Earth. They together admired majestic mountains, romantic streams, clear blue waters and soft white sands.
After that, the fairies left their wings onshore, wallowing in cool seawater and playing with waves until the evening. One fisherman, who felt in love with fairies' beauty, hid behind the rocks to sneakily watch them every day. He, then, hid a wing in the cave. When the sunset was coming, fairies hastily fly to the sky. However, only one fairy could not find her wings and accepted to stay in the Earth with that man, having become a happy spouse.
Surrounded by beautiful scenery and wonderful fresh air, the tourist site offers an ideal setting for a relaxing vacation, together with the opportunity to participate in entertainment and outdoor activities. Included are jetskiing, para-gliding, electric lifebuoys, electric vehicles, and scuba diving. It is also a great place for campers and those who love boating, swimming, fishing or picnic activities.
Visitors also have a unique opportunity to enjoy fresh seafood dishes at an airy restaurant nearby which offers an amazing panoramic view of the scenery.
Within easy reach, there are also a number of beautiful sites nearby, including Da Den (Black Rock Area), Van Tourist Village, Dong Hai fish farm, Bai Bac (Northern Beach), and Bai Nam (Southern Beach). Visitors can also take sightseeing boat tours from the Han River to the Tien Sa Port and back in the same day.
Thanks to its pristine natural beauty, the Tien Sa tourist site will promise peaceful moments and unforgettable experience for all visitors.
.