EU, Da Nang begin solar power project
January 03, 2019, 11:44 [GMT+7]
Da Nang, in co-operation with the European Union (EU), has launched a pilot project to develop solar energy in the city.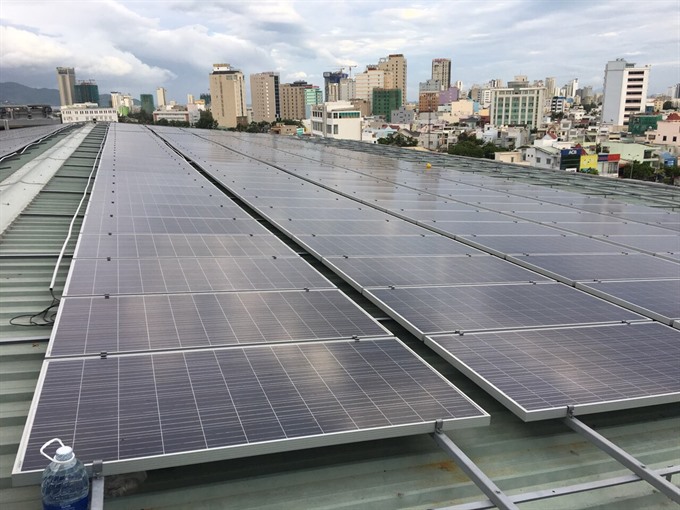 A solar power system on the roof of a building in Da Nang. — Photo courtesy of Minh Vu
The Da Nang Energy Conservation and Technology Consultant Centre (DECC), under the city's Department of Science and Technology, will design and install solar energy systems at Da Nang General Hospital, the Oncology Hospital, 2 schools and 6 households on a pilot basis and build a database of solar power capacity in the city as well as a policy framework for clean energy development.
The project, funded by the EU to the tune of 447,000US$, aims to increase accessibility to clean energy and raise awareness among businesses and households on solar power, energy saving and environmental protection.
It aims to be a good example for localities in Viet Nam to promote mass use of renewable energy technology at household and public buildings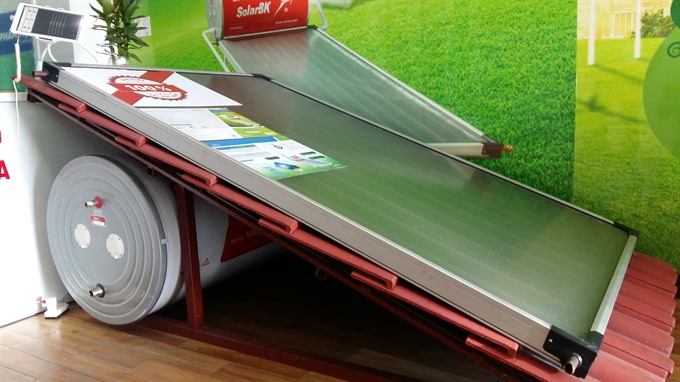 A water-heating system that uses energy from solar panels. — VNS Photo Cong Thanh
The city also plans to build a 4.4MW solar farm on 6.7ha of the closed Khanh Son Landfill in Lien Chieu District at a cost of $5 million to supply 7.7 million kWh (kilowatt per hour) per year to the city's power grid, while reducing 5,000 tonnes of carbon emissions each year.
Da Nang has great renewable energy potential, with a 90km coastline, 2,000 hours of sunlight per year and average wind speed of 3m per second.
According to the city's Industry and Trade Department, about 30 per cent of the city's population use solar power for water heaters, while about 20 five-star hotels and resorts are using a solar power water heating system.
Da Nang has applied nano-lighting technology and saving solutions to reduce 30% of power consumption at public sites since 2009.
Solar power systems and energy-saving Light-emitting Diodes (LED) were installed in deep-sea fishing vessels as a pilot project in 2013.
(Source: VNS)
.