Farmers access agriculture production techniques in South Korea
January 21, 2019, 16:56 [GMT+7]
Over recent years, hundreds of farmers from Da Nang's Hoa Vang District have attended highly practical training courses in South Korea on hi-tech agriculture production.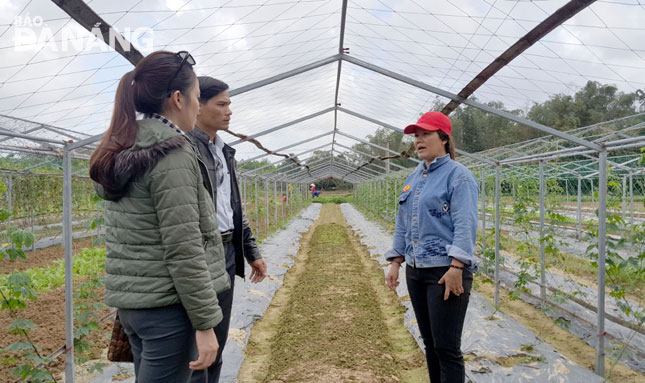 Ms Hanh introducing her organic agricultural production model to the district government officials.
In 2016, representatives from the Hoa Vang District People's Committee (PC) and the Yeongyang County authorities in South Korea jointly started to implement a cooperation programme.
Under the programme, Hoa Vang's farmers have attended training courses in Yeongyang on hi-tech agriculture production techniques.
The programme aims to help Hoa Vang to make more breakthroughs in its agriculture, raise the incomes and enhance living standards of local farmers, and promote the development of organic agriculture.
According to Mr Bui Nam Dung, the Vice Chairman of the district's PC, to date, a total of 233 outstanding farmers across the location have registered to participate in this highly practical cooperation programme.
A farmer from the district's Hoa Khuong Commune, one of the participants in this programme, eagerly recalled his unforgettable memories during his stay in South Korea to learn more about hi-tech agriculture production techniques.
What impressed this man most is that all South Korean farmers, even they are in their eighties, effectively utilise agricultural machinery, including tractors and pesticide sprayers, to considerably ease their hard work, as well as to promote modern mechanized agriculture.
For crop production, the use of diversified machinery helps to efficiently deploy the handling of residues from previous crops, primary and secondary tillage of the soil, fertilizer distribution and application, seeding, planting, and transplanting, cultivation, pest control, harvesting, transportation, storage, irrigation and erosion control, and other related activities.
Another trainee, Ms Pham Thi Hanh from the district's Hoa Nhon Commune, was very satisfied with her participation in a recent 3-month-long training course in the East Asian country.
Apart from accessing advanced agriculture production techniques, Ms Hanh earned more than 80 million VND from her working in South Korea. The money was used to buy more machines for developing organic agricultural production areas. Thanks to this, Ms Hanh's family have raised their incomes from agricultural production activities; so, their living conditions have been considerably enhanced.
The Hoa Vang authorities have asked for official permission from the municipal authorities to continue implementing the bilateral cooperation programme with Yeongyang County.
Besides, concerned local bodies should complete legal procedures in a prompt yet effective fashion, in order to facilitate farmers to take park in the training courses.

.