Clean energy attracts investors
February 10, 2019, 10:22 [GMT+7]
With the development potential of renewable energy, coupled with the Government's preferential policies, Viet Nam has drawn the attention of both domestic and foreign investors in the clean energy field, which is expected to grow quickly in the coming years.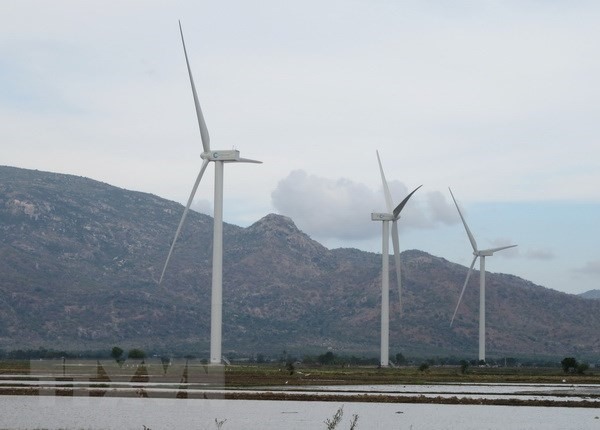 The Dam Nai Wind Power Plant in Ninh Thuan Province. — VNA/VNS Photo Nguyen Thanh
According to the national electricity development master plan for 2011-20, Viet Nam will speed up the production of electricity from renewable sources and reduce the proportion of hydropower projects as part of an effort to ensure the security of the nation's energy supplies and reduce negative environmental impacts.
The country has targeted producing 1,700MW of electricity from wind and solar by 2020.
In 2015, the then Prime Minister approved a renewable energy development strategy which targeted an increase in the ratio of power generated from renewable energy to 32% by 2030 and 43% by 2050.
The Viet Nam Economic Forum 2019, held in mid-January in Ha Noi, stressed the importance of developing renewable energy as major fossil fuel energy sources such as coal, oil and natural gas are on the decline. The country has had to import primary energy sources to produce electricity.
John Kerry, former US Secretary of State, was quoted by the Kinh te & Do thi (Economy & Urban Affairs) newspaper saying Viet Nam boasted advantages on clean energy.
Many US businesses wanted to invest in petrochemical gas and renewable energy, and in upgrading energy security infrastructure in Viet Nam, he said.
The Ministry of Industry and Trade said the number of registered solar power projects in Viet Nam would reach 332 with a total capacity of 26,000MW by 2030.
Speaking at a conference on solar power in HCM City last December, Dang Nguyen Phuong of the Southern Power Corporation said the Government has policies to encourage investment in wind, solar and biomass.
Viet Nam has great potential for solar energy development, and the cost of technology and equipment is falling sharply, he said.
Many localities recorded a wave of investment from both domestic and international investors in clean energy projects.
Thailand's largest solar energy company, Superblock Pcl., planned to invest US$1.76 billion to install 700MW of wind farms in Viet Nam.
The first phase of the investment will cost about 650 million$ and consist of three near-shore farms in the southern region of Viet Nam. They will be a 142MW farm in Bac Lieu Province, a 98MW one in Soc Trang Province and 100MW in Ca Mau Province. The second phase (360MW) will be built in the same three provinces.
The construction of these projects has already begun and the sites should be operational by 2020.
The Thien Tan Group planned to invest 2 billion$ to build five solar power projects in Ninh Thuan Province by 2020. The group is also seeking to develop 20 large-scale solar plants in northern provinces by 2020.
Last January, BIM Group began construction of the BIM 1 solar power project in Ninh Thuan Province, with a planned annual electricity output of 50 million kWh, in co-operation with AC Energy, a subsidiary of the Philippines' Ayala Group.
The group planned to develop the largest clean energy farm in Viet Nam in Ninh Thuan Province with a total capacity of 300MW by the first quarter of 2019, with a target of producing 1,000MW of clean energy by 2025.
In January of this year, construction on two solar power plants kicked off in the central coastal province of Phu Yen. Each plant has a designed capacity of more than 49.6MW and electricity production of about 76.2 million kWh per year.
The province boasts high levels of average total sunshine hours (2,467) and average solar radiation per square metre (1,700kWh), making it ideal for solar energy projects. It has licensed six solar projects so far, according to vice chairman of the provincial People's Committee Tran Huu The.
However, investment in renewable energy still faces challenges such as higher costs, complicated technology and legal bottlenecks, according to energy experts who have pushed for measures to deal with these issues.
(Source: VNS)
.