More universities granted Cambridge Int'l Level A qualification
February 20, 2019, 17:43 [GMT+7]
Four more universities in Viet Nam have been recognised with a Cambridge International A Level qualification.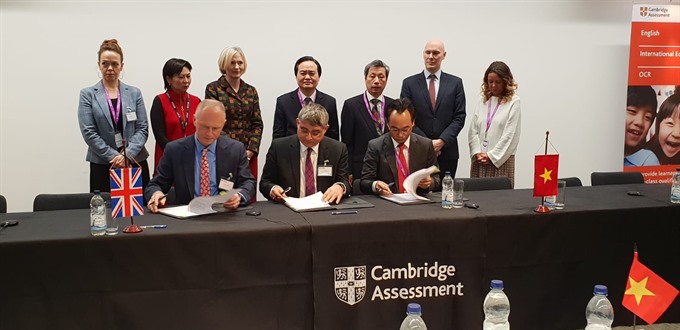 The co-operation memorandum signing between the Ha Noi University of Science and Technology and Cambridge University Press. Four more universities in Viet Nam have been granted Cambridge International's Level A qualification. – VNS Photo
The signing ceremony between the four universities and Cambridge International was recently organised in HCM City and attended by professor Phung Xuan Nha, Minister of Education and Training.
The schools have become the latest local institutions to recognise and welcome Cambridge International students to their undergraduate programmes.
The four universities include the Ha Noi University of Science and Technology, HCM City University of Technology and Education, the National Academy of Education Management and the Mekong University.
In another development, the Ha Noi University of Science and Technology signed a co-operation memorandum with Cambridge Assessment under which the university's Ta Quang Buu School will begin offering Cambridge International's A level programme in the 2019 academic year.
The programme is currently taught in more than 50 well-known international, private and state schools in Viet Nam.
Melvyn Lim, Cambridge International's country manager for Viet Nam and Myanmar, said: "Vietnamese students consistently perform well in Cambridge examinations, and we are thrilled that well-known universities and secondary schools continue to recognise the strength and benefits of Cambridge qualifications.
"We look forward to working closely with schools and universities nationwide to ensure the successful growth of the Cambridge International A level system and making Cambridge International qualifications more accessible to Vietnamese students."
Vietnamese students who graduate from a Cambridge A Level curriculum have their qualifications recognised by some of the world's leading tertiary education institutions.
Internationally, these include the universities of Cambridge, Oxford, Harvard and Yale.
Furthermore, students who have done well in the Cambridge International A level curriculum and have been accepted to US universities may gain up to 36 credits in their first year of undergraduate study.
For students who plan to study in Viet Nam, the four universities have joined such counterparts as the Viet Nam National University (Ha Noi), RMIT University Viet Nam, British University Viet Nam, and FPT University in having their A Levels recognised toward admission.
Cambridge qualifications are taught in more than 10,000 schools in 160 countries and are recognised as gold-standard international qualifications in schools for their wide range of subject choices, regularly updated subject content, easy access to teaching resources, and professional development opportunities for school leaders and teachers.
Students who study the Cambridge IGCSE and A levels have access to an updated, stimulating international curriculum and to teaching methods that equip them with essential knowledge and skills for success in higher education and the workplace.
(Source: VNS)
.