Purification of urban lakes' water
February 17, 2019, 10:35 [GMT+7]
Pondering on how to alleviate water pollution in some lakes across Da Nang, Nguyen Duong Phong, a Year 11 pupil from the Hoang Hoa Tham Senior High School, has poured his much time and efforts in carrying out a research work, entitled 'Green Solution', with the focus on creating a water treatment model installed in urban lakes.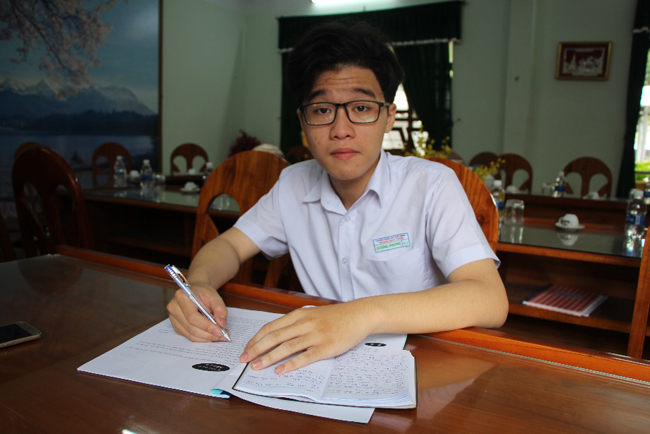 Year 11 pupil Nguyen Duong Phong who conducted the 'Green Solution' research work
Phong's efforts were paid off as his project won the first prize in the recent municipal-level scientific and technological innovation contest. His project is one of the 6 entries representing Da Nang to compete at a national-level competition which is slated to take place next month.
Talking about his idea, Phong said he has strong passion for Chemistry. During his visits to such urban lakes in the city as Bau Trang and Phuoc Ly, he released water shows some signs of oil pollution.
The pollution of urban lake water not only threatens human health but it also blight urban beauty, stirring annoyance amongst residents living nearby and tourists who come here to find a quiet space for relaxation or physical exercise.
In August 2018, Phong took the initiative to present his idea on water treatment to his Biology teacher Tran Thi Thu Nga, and received her great support and encouragement.
Soon, Phong and his cousin who is in the same grade at the Tran Phu Senior High School jointly implemented the research plan.
The 2 teenagers went to the above-mentioned lakes to take water samples for testing. Results showed that the samples were contaminated with organic compounds and metals.
Fully aware of the problem, Phong began to design a water treatment model through floral technology and algae filter.
In order to complete his research project, during 4 months, Phong spent a lot of time taking samples, testing and analysing the results. He also asked for help from students from the Da Nang University of Science and Technology to find optimal treatment methods.
The water treatment model created by Phong features 3 lakeside filter tanks.
In detail, the first tank has the inside painted with titanium oxide, with the function of decomposing heavy metals and organic compounds.
The second highlights vertiver grass to store toxic substances. Meanwhile, 'rong duoi chon' (tropical hornwort ceratophyllum submersum) is planted at the bottom of the third tank, and pistia floats one the surface in order to create oxygen and limit the growth of algae.
Under all three tanks, quartz and activated carbon are placed to clean the water.
It is noticeable, water from lakes is pumped into filter tanks for treatment through a system of exercise bikes, connected to the water infiltration system in a bid to help to purify the canal's water, and raise public awareness about environmental protection.
Accordingly, residents living near local lakes can perform a public service as they take turns spinning the wheels of the dual-purpose bikes designed to clean dirty water.
Winning the first prize for his outstanding work, Phong was very surprised and happy. He said he hopes his research will be put into practice for the purpose of alleviating the water pollution and returning the freshness to urban lakes in the coming time.
.