Cooperation between businesses and scientists proves effective
March 07, 2019, 18:47 [GMT+7]
Since last year, the An Phu Farm Co Ltd has for the first time cooperated with the Biotechnology Centre under the municipal Department of Science and Technology to produce temperate mushrooms to supply domestic market.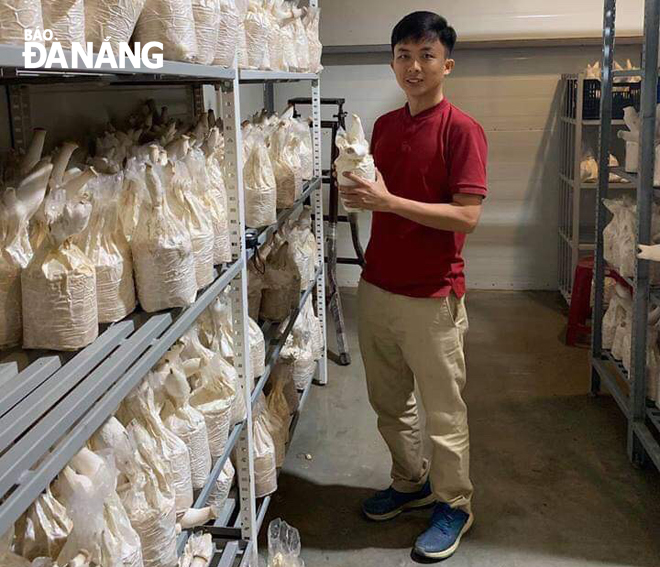 Director Tu and king oyster mushrooms
Mr Duong Hien Tu, Director of the An Phu Farm company, said mushroom is a highly nutritional product but imported mushroom products with unknown origin are now dominating local market.
He has, therefore, cooperated with the Biotechnology Centre to produce a variety of organic mushrooms because the centre has many years of experience in conducting research on mushroom growing methods while his company specialises in offering safe agricultural products to his consumers.
Under the cooperation, some types of tropical medicinal mushrooms such as Ganoderma lucidum, Trametes versicolor, and Pleurotus ostreatus have made their debuts.
Since mid-2018, the two units have together produced other type of cold-stored high quality mushrooms under strict procedures, including king oyster mushrooms and hypsizigus marmoreus.
After 6 months of growing, the first batch of temperate mushrooms made their debuts in mid-January.
These highly nutritious products have won the trust of customers because this type of locally-grown mushrooms is cheaper and fresher than ones sourced from Lam Dong Province's Da Lat City.
Mr Tu added it is expected that this type of cold-stored mushrooms will be sold in supermarkets in Singapore late this year and then will be brought to other international markets.
Mr Dang Ngoc Son, Director of the Biotechnology Centre, highlighted the significance of the production cooperation relations between research institutions and businesses in taking full advantages of available human resources to produce high-quality mushrooms and exploit consumption markets.
Mr Thai Ba Canh, Director of the municipal Department of Science and Technology, said during this year the focus would be on creating a closer links between scientists, research units, and businesses.
Greater efforts would be made to encourage science and technology organisations to cooperate with businesses in a bid to commercialise their research products, transfer their technologies and train human resources.
.