Local student's invention brings benefits to farmers
March 03, 2019, 10:57 [GMT+7]
Pondering on how to help farmers prevent diseases and pests in crops, especially rice paddies, Do Minh Huy, a Year 11 pupil from the Da Nang-based Le Quy Don Senior High School for the Gifted, has poured his much time and efforts in conducting a research work, entitled "Robot to monitor and detect plant diseases".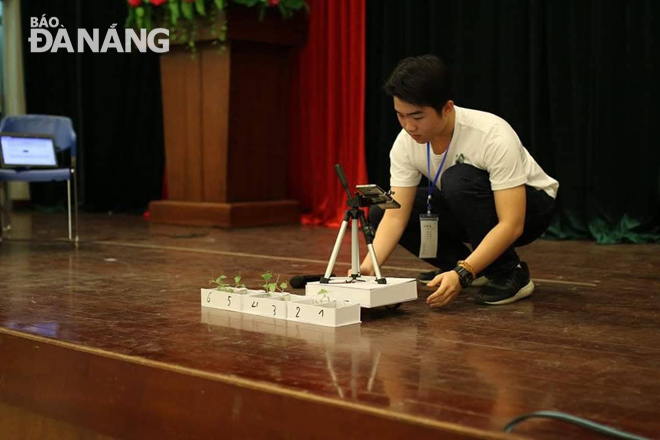 Creating this robot, Huy wants to help farmers monitor and detect plant diseases easily.
Talking about his idea, Huy said, during his regular trips to his hometown in the central province of Quang Ngai, he saw many farmers on the fields on both roadsides take the trouble to take care of their crops, especially their rice paddies and other kinds of farm produce.
Likewise, many local inhabitants, especially young ones, show their interest in developing greenhouse vegetable farming, but they still face some difficulties in monitoring the plant disease development.
This fact really inspired Huy to come up with the idea of creating a robot that makes it easier for growers to detect plant diseases.
According to Huy's explanations, if the successful application of this technology helps plants grow well and effectively, the good quality of agricultural products will be ensured, hereby securing their berths in the market, for the sake of consumers' health.
In July 2018, Huy embarked on realising his ideas, and learning deeply about artificial intelligence, robots, image processing,, and other aspects.
Finally, Huy successfully created a robot which operates in greenhouses to monitor and detect plant diseases.
The robot has a box that contains the processing equipment, including the motherboard and a self-moving engine processing module, and a module connected to a computer.
Noticeably, this robot easily moves in muddy areas. Above the box, there is a camera which records images of plants.
The robot is responsible for directly sending the recoded information to the server. From here, the transmitted information will be processed with the application of artificial intelligence (AI) technology.
Thanks to this feature, farmers find it very easy to access information on crop information on crops, diseases, pesticide residues and crop nutrition, hereby timely conducting measures to eliminate diseases.
Huy said he spent much time learning about AI technology on the computer, and this is the most important task to create and program the complete robot.
Besides, self-cultivation of specimens and other tasks were also very time-consuming.
Huy's efforts were paid off as his project won the first prize in the recent municipal-level scientific and technological innovation contest. His project is one of the 6 entries representing Da Nang to compete at a national-level contest which is slated to take place soon this month.
Also, his work won a third prize at the recently-concluded municipal-level 'Creative Experience Competition with Intel Galileo U-Invent' competition which was organised by the city-based Viet Nam-UK Institute for Research and Executive Education (VNUK).
.