National government asks Da Nang University Urban Area project to be in line with Industry 4.0
March 04, 2019, 17:31 [GMT+7]
Deputy Prime Minister Trinh Dinh Dung has directed functional bodies to begin the construction of the large-scale Da Nang University Urban Area project, which has been suspended for over 2 decades.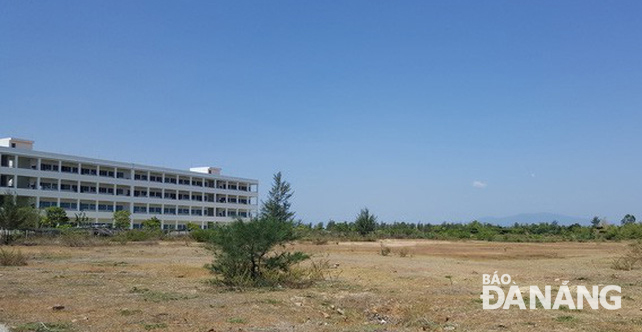 The current construction site of the Da Nang University Urban Area project in Hoa Quy Ward, Ngu Hanh Son District
Accordingly, the project must be constructed towards the direction of a smart, green urban model, using renewable energy in accordance with ongoing fourth industrial revolution (Industry 4.0).
Also, importance should be attached to developing a student-centered architectural planning space, creating an ideal education environment for students to promote their personalities and life skills, and ensuring convenient and safe operation management.
Deputy Prime Minister Dung assigned the Ministry of Education and Training to implement capital allocation and approve the project's estimates.
The University of Da Nang (UDN) will select consultancy units to set up the detailed 1:200 planning map within 9 months, and then submit it to the Ministry of Construction for appraisal and the Prime Minister for approval.
The Da Nang University Urban Area project will cover 286.5ha of land, of which 96.5ha is in Hoa Quy Ward, Ngu Hanh Son District, Da Nang, whist the remainder is in Dien Ngoc Ward, Dien Ban Town, neighbouring province of Quang Nam.
Once it is put in to operation, the project will serve as a special functional area, a multi-disciplinary centre for education and scientific research.
By 2035, the venue is expected to have accommodated a total of 66,000 people, of whom 60,000 are students, and the rest are lecturers and managerial officials.
The project features such basic functional zones as the central area in use for operating the university village, public service works and some common utilities; the study and research facilities of the UDN's member schools; physical training, defense education and sports areas; R&D and incubation facilities.
There will also be a square and green-covered park complex; halls of residents for students, technical infrastructure facilities; internal traffic routes, and commercial and service areas.
Noticeably, study areas and research facilities will be developed in an effective way, and facilities should be shared effectively by UDN's member schools.
.