Vietnamese doctors win 2 awards at Asian conference
May 22, 2019, 10:05 [GMT+7]
Vietnamese doctors won two of five awards given for Best Oral Presentation on outstanding scientific research at the 9th Congress of the Asia Pacific Initiative on Reproduction (ASPIRE 2019).
They are Drs Ho Ngoc Anh Vu and Ma Pham Que Mai of My Duc Hospital in HCM City.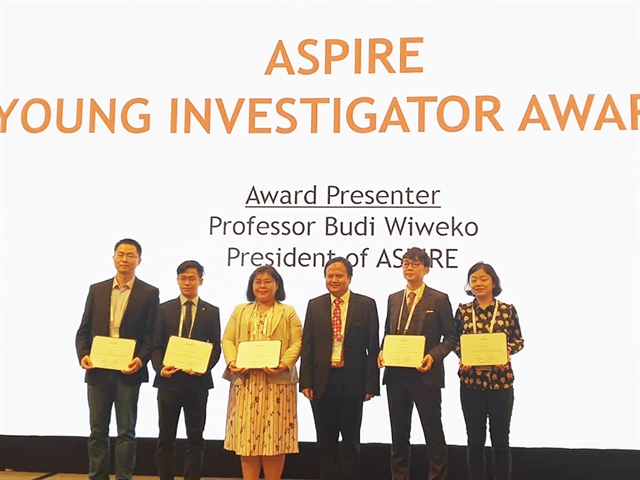 Doctors Ho Ngoc Anh Vu and Ma Pham Que Mai (second and third left) from HCM City's My Duc Hospital received the Young Investigator Award for scientists aged below 40 years at the 9th Congress of the Asia Pacific Initiative on Reproduction. (Photo courtesy of the hospital)
Dr Vu presented a study on the effectiveness and safety of in vitro maturation of oocytes versus in vitro fertilization (IVF) in women with a high antral follicles count that he and his colleagues carried out.
In vitro maturation of oocytes (IVM) is the technique of letting the contents of ovarian follicles and the oocytes inside mature in vitro to treat infertile women.
The study showed IVM seems to be an effective treatment compared to IVF while eliminating the risk of ovarian hyperstimulation syndrome in women with high antral follicles count.
IVM is postulated as an alternative to conventional IVF to avoid ovarian hyperstimulation syndrome. This has particular potential in women with high AFC, who have increased risk of getting the syndrome.
IVM is one of My Duc Hospital's outstanding techniques. The others include pre-implantation genetic testing, a technique used to identify genetic defects in embryos created through IVF before pregnancy.
The hospital also uses time-lapse systems for embryo incubation and assessment.
The hospital has an IVF centre with clean room technology, which keeps the air in the centre clean and creates the safest conditions for embryo incubation.
Dr Mai won the award for the study on the correlation between polymorphism of follicle stimulating hormone receptor and suboptimal ovarian response in Vietnamese women undergoing IVF.
They were also given the Young Investigator Award meant for scientists aged below 40.
ASPIRE was organised by the Asia Pacific Initiative on Reproduction and the Hong Kong Society for Reproductive Medicine and attracted nearly 2,000 attendees from more than 40 countries.
More than 400 studies were presented at the ASPIRE.
The annual conference offers a very good experience and networking opportunities to discuss the latest developments in reproductive medicine.
Of them nine outstanding researches were selected to be presented at the congress's special sessions and these speakers have to answer related questions from a judging panel.
Two of the nine speakers were Vietnamese and received awards, indicating the development of the country's health sector to delegates at the globally reputed scientific forum.
My Duc Hospital has many leading experts and modern equipment to provide infertility, obstetrics, gynaecology, and neonatal healthcare services.
The hospital provides training in IVF to Vietnamese and foreign doctors.
(Source: VNS)
.