ASEAN ICT Awards 2019 launched in Viet Nam
June 19, 2019, 10:21 [GMT+7]
The Ministry of Information and Communications hosted a ceremony in Ha Noi on June 18 to announce the ASEAN ICT Awards 2019 (AICTA).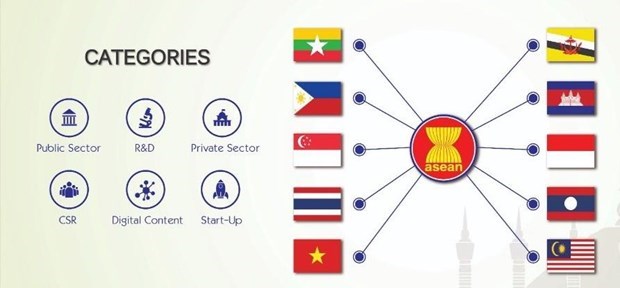 (Photo: aseanictaward.com)
The AICTA, an initiative approved at the ASEAN Telecommunications and IT Ministers' Meeting in 2012, aims to seek and honour creative ICT products and solutions that can be applied in reality, helping promote technological application and enhance trade relations among the ASEAN countries.
It features six award categories, namely public sector, private sector, corporate social responsibility, digital content, startup company, and research and development (R&D).
To send in their entries, organisations and businesses must submit a video (about 2-5 minutes and in mp4 format) and documents introducing their products. All dossiers and materials relating to the products must be made in English and sent to the domestic organising board by July 31.
Viet Nam won prizes at the ASEAN ICT Awards in all categories in the previous years. Notably, in 2018, the Da Nang-based Duy Tan University won a silver prize in the R&D category.
The broader participation in the AICTA is a chance to promote Viet Nam's ICT products in the region and the world, thus helping to expand the market for the country's software products and services.
More information could be found at https://aseanictaward.com.
The award ceremony is scheduled to take place in the framework of the 19th ASEAN Telecommunications Ministers Meeting (TELMIN) in Vientiane in October.
(Source: VNA)
.