National public services portal soon opens this year
June 15, 2019, 11:04 [GMT+7]
Cabinet meetings will be streamlined and more innovative as the Government moves into the digital era later this month.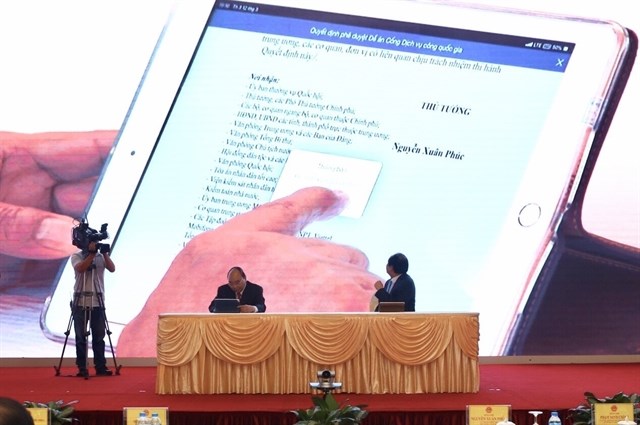 Prime Minister Nguyen Xuan Phuc launched the national e-document exchange platform in March 2019 (Photo: VNA)
The move towards e-government will create a new-look administration, but there is still work to be done to ensure a smooth transition.
The Prime Minister's task force led by Minister and Chairman of the Government Office Mai Tien Dung met on June 13 with ten ministries, including Public Security, Planning and Investment, and Internal Affairs to discuss the implementation of e-Cabinet.
The platform will reduce Cabinet meetings from three days to just one. Documents will be handled online which will allow the Cabinet members to focus on discussing issues and casting their votes.
"The e-Government does not mean sending meeting invitations via e-mails. It aspires to a digital economy which can serve citizens better," said Dung.
The minister tasked the Ministry of Information and Communications to accelerate the e-Government 2.0, data sharing, electronic authentication and come up with solutions to provide citizens e-ID cards.
Nine other ministries will be responsible for databases involving workers' information, companies, land issues, insurances, finance and population.
They were also asked to help build the national public services portal and develop their own ministry-level electronic one-stop information systems.
At the meeting, Dung announced the national public services portal would be launched in November.
Driving licences will be one of the first services provided on the platform.
Back in March, Prime Minister Nguyen Xuan Phuc introduced the national e-document exchange platform, offering quicker and safer delivery of official documents to enhance transparency.
However, according to Dung, the use of e-signatures and e-documents in ministries and State agencies remains low.
He urged them to accelerate the application of information technology and internal reform to improve performance and provide better public services to citizens and entrepreneurs.
"There are a lot of advantages to the platform. It is a move towards a modern, new-look Government," Dung said.
All 31 ministries and ministerial-level agencies, 63 localities and the Party Central Committee Office have adopted the platform.
It is expected to save 1.2 trillion VND (51.53 million USD) per year in stationery, deliveries and other expenses.
(Source: VNS/VNA)
.