The importance of establishment of Da Nang National University in driving the city's growth
March 31, 2021, 16:03 [GMT+7]
Over recent years, the University of Da Nang (UDN) has been recognised as a key player in Central Viet Nam, and has played a vital role in producing high quality manpower to promote the development of Da Nang and Viet Nam at large. In the coming time, the University of Da Nang will make greater efforts to overcome many challenges it can face on its path to become a National-level University.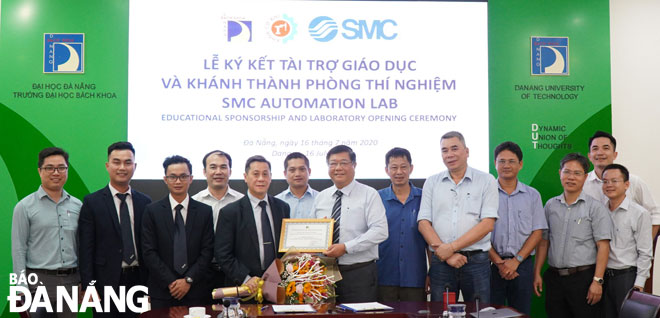 Picture taken at the educational sponsorship and laboratory opening cermony to be held in the Da Nang University of Science and Technology in July, 2020
Producing high quality human manpower to drive Da Nang's development
Assoc.Prof.Dr. Nguyen Ngoc Vu, Director of UDN, said the university has clearly identified the most important task that focusses on producing high-quality manpower to promote the development of Da Nang, and Central Viet Nam and Viet Nam at large in line with the Politburo-adopted Resolution No 43-NQ/TW regarding the Da Nang's major developments to 2030 with a vision to 2045 dated 24 January, 2016.
The focus will be on bringing STEM careers into the classroom. Ensuring students have access to the best possible STEM careers information is a core part of Da Nang Government's policy.
Jobs in the STEM sectors are predicted to rise in Da Nang in the future. STEM industries include the engineering, information technology, digital, electronics and automation. They are clearly higher value-added sectors which have the potential to make Da Nang a national hub for innovation and a smarter city.
In addition, the services sector which comprises many industries including tourism, finance - banking, e-commerce, logistics, health and high-quality education are expected to thrive in Da Nang in the years ahead. Hence, the importance will be attached to providing human resources for this sector. Not only a coastal city, Da Nang lies in the central key economic zone, serving as the endpoint and the Pacific gateway for the East-West Economic Corridor (EWEC). Based on these advantages, Da Nang boasts tremendous potential to develop its maritime logistics services.
Members of UDN have taken initative to shape effective programs for STEM students in order to meet the increasing need for STEM skills from recruiters.
The Da Nang University of Science and Technology, for example, is a member of UDN which has been selected by the US-based Universal Alloy Corporation Asia Pte. LTD-UAC to deliver its future staff working for its new 170 million US$ Sunshine aerospace components factory based in Da Nang. Hence, in the 2020-21 academic year, the Da Nang University of Science and Technology offered bachelor's degree programs in computer engineering, aerospace engineering, data science and artificial intelligence, and more.
It is known that the UAC plans to recruit more than 1,000 engineers, skilled workers in such areas as mechanics, electricity, electronics, automation. The US company is in need of more than 2,000 engineers and technicians working for its new planned supporting industries to be developed in Viet Nam.
In its effort to meet urgent workforce needs, UAC is partnering with the Da Nang University of Science and Technology to develop training programs, build new facilities and modern laboratories to facilicate students to study better in the school. Besides, UAC has sent is experts to the school to join teaching staff here. The school has created opportunities for students to increase real-world skills, helped them participate in practical projects to improve their skills. This will help them become good engineers after their graduation, and they will get ready for an international workplace.
By Ngoc Phu - Translated by H.L
.