Da Nang goes digital with technological application for promoting smart tourism
April 19, 2021, 15:16 [GMT+7]
The application of IT and digital transformation in tourism development has now become more imperative nowadays. Da Nang is gearing up investing in the IT application to develop smart tourism with the aim of providing tourists with many conveniences, and helping tourism businesses easily design products more attractive to their potential clients.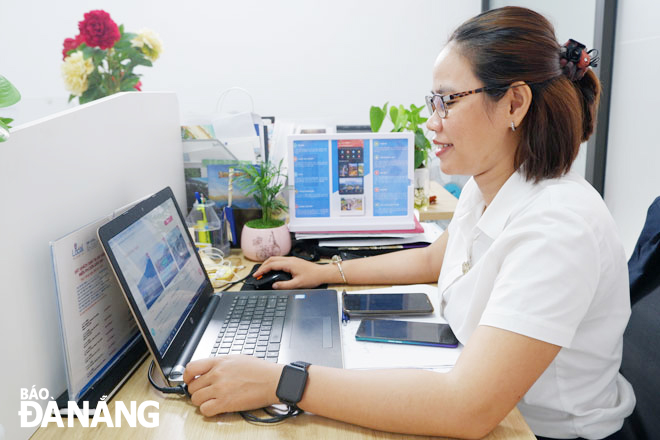 Many tourism service providers in Da Nang now have their own websites introducing a wide range of products and services to potential travellers.
The application of advanced digital technologies will enable businesses to better understand customers, and personalise their service and incentive packages based on customers' preferences, while reducing costs, optimising profits, and making their work processes more scientific, rapid and efficient.
From customers' perspective, through smart phones using digital applications, they will be able to perform a wide ranges of activities from planning trips, selecting means of travel and travel agents to booking hotels and the receipt of post-trip preferences, instead of directly contacting tourism companies.
Diversifying utilities, increasing tourist experience
Grasping the habit of users switching to using apps to book online services during COVID-19 pandemic hitting Viet Nam last year, the One Office Media & Technology Co., Ltd., headquartered on Dong Da Street, Thach Thang Ward, Hai Chau District, synchronised the data of e-commerce website One Da Nang through OneLocal travel app.
OneLocal provides complete information on serviced accommodation rooms, tours, villa / resort / homestay combo, car rental, arts shows, travel guide, tourist destinations of famous tourist cities, tickets for sightseeing tours, and tourist attractions in such attractive Vietnamese destinations as Da Nang, Hoi An, Nha Trang, Phu Quoc, Da Lat, Phan Thiet, Quy Nhon, Phu Yen, Ninh Binh and Ha Long.
Based on the OneLocal-offered information, the app user can find it easier and more convenient to choose tour packages suitable for their real tastes and needs.
Using the app, the user is able to book lodging rooms and pay charges in a flexible manner, search for attractive combos, vouchers and e-coupon with real-time discount information, have a general view of serviced accommodation establishments and their locations on a map, and save everything favourite to the app's Wishlist.
Besides, users can book transport services at the airport and hire vehicles for their whole tour packages or hourly rentals. Also, the purchase of electronic tickets using QRCode for admission to famous tourist attractions is easily made on the app.
Meanwhile, 3D scanning technology has been put into use in the Da Nang Museum of Cham Sculpture since late September 2020 with the aim of bringing up the most authentic experience to visitors amid the burgeoning Industry 4.0.
3D scanning is a technology for creating high-precision 3D models of real-world objects. Simply put, objects are digitised and its virtual and physical replications are created by using the photogrammetry technique. The scanning is done at visitors' premises using special lights and setup without damaging the artifacts.
With this versatile technology, you can easily experience a 3D space at the museum's four galleries, namely Tra Kieu, My Son, Dong Duong and Thap Me.
The short, continuous and detailed movements allow users to actively interact directly with the unlimited space and move through the space to any point to feel as if the real-world exhibits are placed there.
Besides, through the existing multi-lingual audio guide, visitors can access audio recordings in Vietnamese, English, and French to gain an insight into the history, origin, place names, and information about the artifacts on display here.
For more details on the 3D scanning technology applied at the museum, please visit http://scan3d.danangfantasticity.com.
According to the municipal Department of Tourism, by late 2020, the whole city had housed 1,239 serviced accommodation establishments, many of which have their own websites introducing a wide range of products and services to potential travellers.
Smart tourism: an inevitable development trend
Under the Da Nang government-approved specific roadmap for driving the city's tourism growth during the 2021-2025 period, focus will be on scaling up the scientific and technological application to promote smart tourism, which is one of the key tasks associated with tourism restructuring.
Notably, the city will concentrate on building tourism promotion campaigns, especially night-time tourism, through social networking sites such as Facebook, YouTube, Twitter, Instagram and Zalo, boosting Online Marketing and E-Newsletter strategies, and continuously upgrading the features of mobile apps in line with real trends and needs of travellers.
Also, 'virtual reality' tourism services with the application of 3D / 4D technologies will be promoted to enhance tourist experiences in tourism promotion activities as well as at tourist attractions.
More service establishments should be engaged in using e-payment forms to minimise cash payments and developing OTA (Online Travel Agent) platforms and new business models on the basis of IT applications.
Multi-lingual audio guide systems should be developed in more tourist attractions across the city in the time to come.
Reporting by MAI HIEN – Translating by A.T
.