Da Nang students significantly benefit from paid overseas internships
April 16, 2021, 11:34 [GMT+7]
In recent years, international cooperation has become an inevitable trend for higher education establishments across Viet Nam, and Da Nang is no exception. Taking well-paid overseas internship programmes, Da Nang students have many opportunities to access modern working environment, enhance soft skills, gain professional experience, and earn extra pocket money as well. The Da Nang-based universities of Technology and Science, and Dong A are typical examples.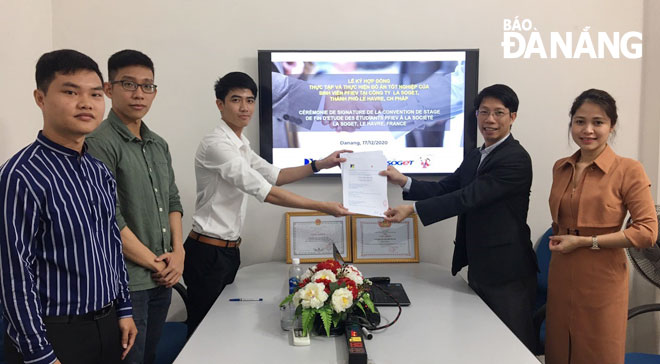 Two talented students, whose major is Software Engineering at the Da Nang University of Technology and Science, entering into an agreement on taking an internships in France under the high-quality PFIEV programme
Highly effective internship programmes in France
Late last year, two talented students, whose major is Software Engineering, were selected to join an internship programme in France, under the high-quality PFIEV (Vietnamese-French Training Programme of Excellent Engineers implemented since 1999). The duo is expected to take the internship in this developed European country once the pandemic is put under control in the coming time.
Also, after their graduation, the two Da Nang students will be eligible for working at the city-based Logi VietFrance JSC, a partner of Le Havre city-based La Soget, which is a leading French company in the field of logistics software, with a minimum monthly salary of VND26 million
Dr Nguyen Le Hoa, the Dean of the Faculty of Advanced Science and Technology, said the university last year entered into agreements with French partners to grant scholarships for internships in France for six excellent undergraduates under the PFIEV.
Till date, about 80 students from the university have joined internships and done graduation dissertations abroad.
Boosting bilateral cooperation with Japan
Sending students to Japan for internships is one of the major goals that many higher education institutions in Da Nang have been pursuing. The educational cooperation with Japan helps students enhance their professional qualifications and skills, and grasp the opportunity to receive high salaries during their internship periods in "the land of the rising sun".
The private Dong A University has also made great efforts to help its eligible students approach internships in foreign enterprises.
For example, in late November, 2020, this tertiary establishment and Nagasaki Prefecture in Japan entered into a comprehensive cooperation agreement on offering internship programmes and job opportunities in Japan to its nursing students.
Under the agreement, Dong A nursing students will join one-year paid internship programmes in medical facilities in Nagasaki.
This Japanese locality has made a commitment to supporting the Vietnamese interns to cover all lodging fees and living expenses, as well as providing training courses on vocational skills and the Japanese language for them.
"Cooperation with Nagasaki Prefecture - the seventh Japanese locality on internship programmes for Dong A students, is a sustainable cooperation inherited from the previous agreements. Up to now, we have sent more than 200 students to Japan for study and work. We target to take 300 - 500 others to this Asian country this year and the subsequent year", said Master Luong Minh Sam, Chairman of the Council of the Dong A University.
It is expected that, starting from 2021, 800 - 1,000 Dong A students will participate in international educational exchanges or take internships each year in Japan, Germany, Singapore, Korea, Taiwan (China) and other foreign countries and territories all over the world.
According to the city's experts, the Japanese market is very attractive to young Vietnamese labourers. One of the most inviting factor is that Vietnamese students who are sent to Japan for internship and work programmes usually receive an average monthly earnings of 1.500 US$ each (equivalent to over 30 million VND).
Besides, Japanese businesses show off quite attractive support policies in terms of professional training, travel costs, and accommodation services for guest workers.
These aforementioned universities received very positive feedback from the Japan-based recruiters on its interns' good working spirit, attitude, and professional skills. Especially, the Vietnamese employees are usually highly praised for being healthy, hardworking, industrious, honest, eager to learn, and highly-skilled.
Reporting by NGOC PHU – Translating by A.T
.