Successful startup in Da Nang with spirulina algae cultivation
April 14, 2021, 16:57 [GMT+7]
The AlgaeVi research group from the Faculty of Biology - the Environment at the Da Nang University of Education has succeeded in bringing products to the market, and conducting technology transfer. Especially, their spirulina algae farming project is currently one of the startups eligible for incubation in the Da Nang High-Tech Park, Hoa Lien Commune, Hoa Vang District.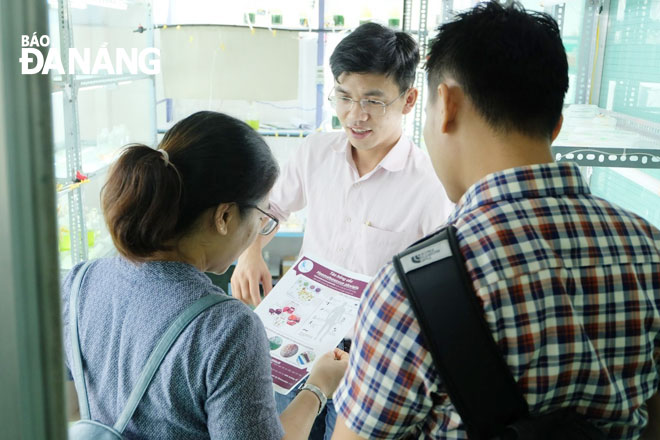 The AlgaeVi research team discussing how to bring products close to consumers
The group, in recent times, has achieved some remarkable results on their startup journey such as increasing sales of products, owning breeds and advanced production processes, and successfully transferring technology to businesses in the city.
Mr Le Van Kiem, alumnus of the Faculty of Biology - Environment, a representative of the group, affirmed that a startup platform has been levered by reliable and methodical scientific researches carried out by themselves at the university.
Spirulina is a type of blue-green algae that people can take as a dietary supplement. People consider spirulina a superfood due to its excellent nutritional content and health benefits. This species of algae has a high protein and vitamin content, which makes it an excellent dietary supplement for people on vegetarian or vegan diets.
Research suggests that spirulina has antioxidant and inflammation-fighting properties, as well as the ability to help regulate the immune system.
Kien pointed out to the fact that, although domestic and foreign demands for spirulina algae are quite high, there is not a stable seed source, whilst production and processing technology is still rudimentary.
Based on their successfully scientific research, the group embarked on implementing the first and most important step, which is the application of molecular biology to select and domesticate varieties for algae's effective adaptation, thus helping the group to take the full control over algae seed production.
Along with that, the group has built up spirulina farming and processing methods which are totally different from others currently applied nationwide.
Accordingly, AlgaeVi is focusing on there important factors, namely building nutritional formula based on scientific research, optimising ecological conditions and applying automation equipment in production and control processes.
The group has successfully built a clean, self-contained production process which minimises waste discharge and uses minimal natural resources through the algae cultivation in bags attached with sensors for self-monitoring, environmental quality and the control of algae cultivation conditions in real time.
Kiem said algae farming models currently applied by domestic farms often either use open concrete tanks that can generate large algal biomass but they are easily polluted, or follow an acrylic tube model which facilitates the algal growth but it is unable to produce large biomass. Meanwhile, the spirulina farming bag's cost is 20 - 25% lower than those of the tank, while the growth rate of the algae cultivated in the bag is twice that of the tank-based method.
AlgaeVi has successfully developed many new products such as algae powder, nuggets, biscuits and tea made from spirulina algae which aim to supplement proteins, amino acids and essential minerals for the human body.
In addition, others such as algae capsules, tablets and capsules help enhance resistance, anti-oxidation, anti-aging, and support the treatment of diseases related to the heart and the immune system.
Besides, AlgaeVi, for the time being, is promoting the research into the development of other high value algae, red blood algae for instance, and other seaweed groups. Accordingly, the application of algae has reached out to the development of pharmaceuticals, cosmetics or other purified secondary compounds.
In particular, AlgaeVi is now cooperating with businesses across the country to implement a project of cultivating spirulina on an industrial scale and creating products from biomass.
AlgaeVi's goal is planning to develop itself into a science and technology (S&T) enterprise which specialises in high-tech algae production, with importance attached to ensuring the supply of raw materials and spirulina products to domestic and foreign markets.
Reporting by PHONG LAN – Translating by A.T
.