Da Nang S&T enterprises on track to make development strides
May 20, 2021, 17:29 [GMT+7]
In recent years, the Da Nang administration has actively assisted local businesses in developing scientific and technological activities, thereby promoting their innovation, productivity and quality enhancement, so that they can turn themselves into science and technology (S&T) enterprises with high-value products for the sake of the city's socio-economic development.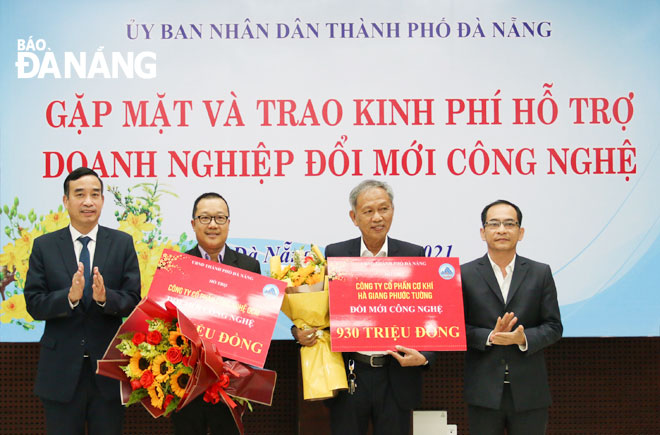 Da Nang People's Committee Chairman Le Trung Chinh (first, left) gave financial aids from the municipal Science and Technology Development Fund to S&T enterprises early this year.
Since 2012, the municipal government has issued many policies to support technological innovation at enterprises. The municipal Department of Science and Technology has granted a total of more than VND 6 billion in aid to over 30 businesses for the implementation of their technology innovation activities.
In early 2021, a total of nearly 1.5 billion VND in aid from the Da Nang Science and Technology Development Fund was given to the Ha Giang Phuoc Tuong Mechanical Engineering JSC and QCM Technologies JSC, both based in the city. The money was spent on supporting these science and technology (S&T) companies to drive their technological innovations, with a focus on researching, designing and manufacturing equipment boasting advanced technology.
On December 9, 2020, the municipal People's Council issued a resolution on the level of expenditure from the State budget to support the innovation startup ecosystem in the city by 2025. Under this resolution, enterprises find it easier to access a lot of support to make purchase of equipment or self-create technologies, establish intellectual property rights, and conduct quality measurement activities so as to improve the quality of products and services and reduce manufacturing costs.
Till date, Da Nang has housed 14 S&T enterprises, most of which were formed in the 2019 – 2020 period.
The current S&T enterprises are mostly small and medium-sized private enterprises active in the aspects of mechanical automation, IT, biotechnology, medicine and pharmaceuticals and environmental improvement.
In particular, many new technologies have emerged to enable enterprises to develop production, create new products and increase revenue, as well as help spread scientific and technological research activities for better productivity and product quality, thereby contributing to fostering the city's socio-economic progress.
Many outstanding products by Da Nang-based S&T enterprises have been honoured at many domestic competitions.
Developed by the Da Nang-based Water Resources Development and Consulting Company (WATEC), Vrain, the largest automatic rain gauge device in Viet Nam, has claimed the top prize in the 2019 Viet Nam Fund for Scientific and Technological Creations (VIFOTEC) Award. Vrain provides early flood warnings and monitor reservoir operations, hereby strengthening local capacity to anticipate, prepare for, cope with and respond more effectively to disasters.
Meanwhile, "Design and manufacture of steel bending machine with a large vertical axis" by Ha Giang Phuoc Tuong Mechanical Engineering JSC won a third prize at VIFOTEC Award 2019.
In addition, many products developed S&T enterprises have been granted the certifications of intellectual property rights by the National Office of Intellectual Property of Viet Nam.
Patients have been granted for such products as 'The treatment of heavy metal ions-contaminated wastewater with a magnetic material covered with gamma-polyglutamic acid', and 'Multilayer ground water filtration equipment'.
The industrial design right has been ensured for an automatic water quality buoy on coastal waters created by the Da Nang-headquartered Smart and Innovation Technology Joint Stock Company (Sitech)
Besides, many computer programmes have received copyright registration certificates such as Micas smart vehicle inspection device, CARIS traffic virtual assistant application, Umbalena – Viet Nam's leading digital library for kids.
In the time ahead, the Da Nang Department of Science and Technology will work with relevant agencies to vigorously promote the publicity of the S&T enterprise model and creating more forums for business to exchange their experience in production and business process for sake of mutual development. These proactive measures aim to support local firms to leverage their innovative research and enhance their product quality and competitiveness.
Besides, special heed will be paid to continuing to simplify administrative procedures for the establishment of S&T enterprises as well as releasing more incentives for businesses.
Along with a handful of support policies issued by the national and municipal governments, businesses must promote their own internal strengths to renew technology and equipment, and actively cooperate with S&T organisations and other enterprises from both home and abroad to improve the performance of their companies.
Reporting by LE DUC VIEN – Translating by A.T
.