The city gets ready for 10th grade entrance exams
June 14, 2021, 17:31 [GMT+7]
The 10th grade entrance exams for academic year 2021 to 2022 is approaching closer, and relevant agencies are gearing up preparations for the examinations in order to make sure that the examinations will go as smooth as possible. More than 13,000 candidates will sit for the upcoming exams and around 3,000 people will staff at 32 exam venues tomorrow, June 15.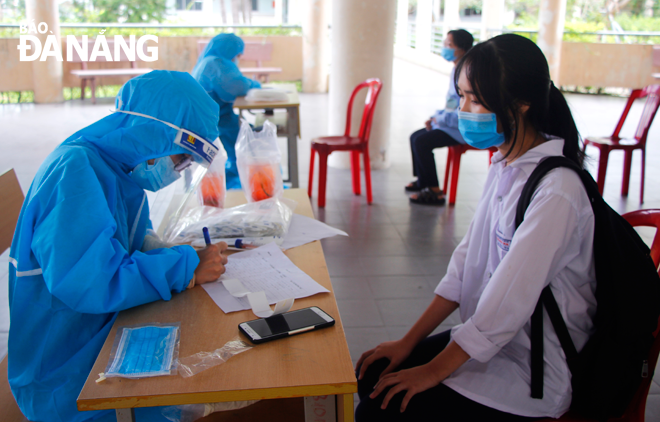 Medical forces collect personal information from test takers who get tested for COVID-19 at a testing site in Le Quy Don Senior High School for the Gifted in Son Tra District. Photo: Xuan Dung
Candidates feel safe and secure to take their entrance tests for admission to class 10
On June 12 and 13, more than 13,000 test takers and around 3,000 people staffing at exam venues had their throat and nose swabs taken by local medical workers at testing sites for COVID-19 testing.
Strictest health measures were put in place at testing sites and all the tested people stuck to the city's infection control guidance and advice in a bid to prevent the risks of infection.
Vo Hoai Xuan Nhi , a 9th grader from the Phan Dinh Phung Junior High School, in Thanh Khe District, said: "This year's 10th grade entrance exams are held in the context of complicated developments of COVID-19. Screening tests for the virus offered to the candidates before the exams help us and our families feel more secure."
Mr. Phan Van Thang, Deputy Head of the exam venue at the Ly Thuong Kiet Junior High School in Hai Chau District), remarked that disinfectant sprays for the prevention of COVID-19 have been already carried out in all exam venues by local workers. He also said that the 10th grade entrance exams will be held in the city with strict virus-prevention measures in place in order to ensure candidates' adherence to precautionary measures and preventive guidelines against COVID-19 to protect themselves and others, including wearing a face mask, having their body temperature measured, disinfecting their hands and, keeping a safe distance from others.
Mai Tan Linh, Deputy Director of the municipal Department of Education and Training, said that the department has carefully developed COVID-19 response plans for unexpected situations. In particular, a special exam venue at the Vo Chi Cong Senior High School in Ngu Hanh Son District is already prepared for possible primary and secondary COVID contacts who will take their entrance exams for class 10. If a new situation occurs, the municipal government will consider thoroughly it for making a decision soon.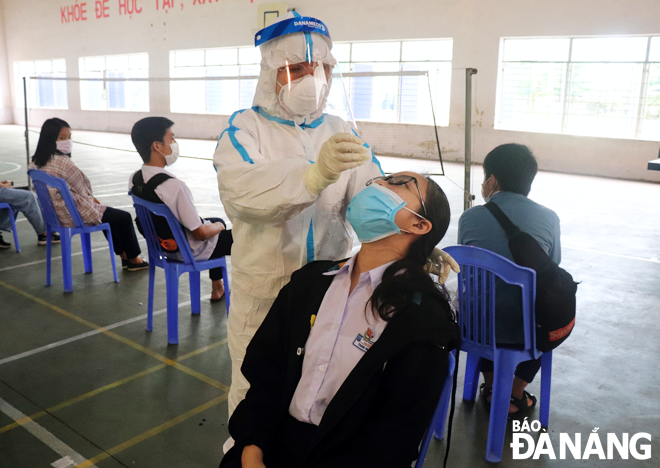 Medical workers in Hai Chau District took swab samples of test takers at a testing site in the Ly Thuong Kiet Junior High School in Hai Chau District on June 13. Photo: NGOC HA.
Close coordination between involved agencies and departments
The Department of Education and Training has worked closely with relevant agencies to make the best possible preparation for the exams. Healthcare service is very well prepared for ensuring the health safety of all candidates and personnel staffing at exam venues. Medical workers will be available at all exam venues to provide help whenever needed during the exams.
The Da Nang Power Company has assured that there will be no power cuts affecting 32 exam venues.
Police officers will be deployed across the city, at the exam venues and their surroundings in order to provide regular traffic enforcement to reduce traffic congestion, and ensure the safety and security during the exams.
The 10th grade entrance exams for academic year 2021 to 2022 will take place on June 15, 16, and 17 in Da Nang.
On June 14, all candidates were present at 9:30 am at their test sites, and they were presented with exam rules/regulations and instructions.
Tomorrow, on June 15, candidates will take the Literature test for 120 minutes from 8:00 am - 10:00 pm and foreign language test for 90 minutes from 2:30pm to 4:00pm.
On June 16, test takers will only take the morning exam in Mathematics for 120 minutes from 8:00 am to 10:00 am.
On June 17, candidates who apply for the Le Quy Don High School for the Gifted will take the specialized high school admissions test for 150 minutes from 8:30 a.m. to 10:30 a.m.
Reporting by NGOC HA – translating by H.L
.