Enhancing life skills for freshmen to stay sober in a new environment of the university
October 13, 2021, 18:32 [GMT+7]
As a consequence of the COVID-19 pandemic, activities to connect first-year students with teachers and new friends at the university have only been conducted via virtual platforms. However, swindlers are making the most of this cyberspace to attract their targets and getting more sophisticated in how they use technology to scam students, especially freshmen. Therefore, many universities have invested in teaching basic self-defence and life skills to their students to stay sober in the new environment.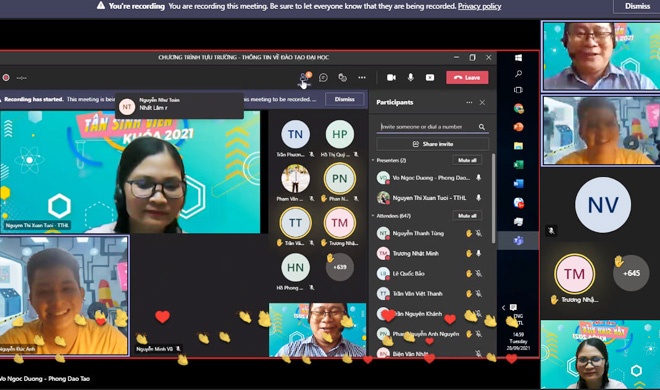 Freshmen of the University of Science and Technology- the University of Danang are participating in online back-to-school activities. Photo: HA TRAN
Having integrated into the series of online social and academic activities of the "Orientation Week' to help the first cohort of students of the University of Economics (DUE)- the University of Da Nang (UD) envision their 4-year journey are the contents to help students avoid pitfalls, scams and illegal multi-level organizations lurking in the shadow of job placement centres.
According to Mr Tran Quoc Hung, Head of Student Affairs Department of DUE, students are provided with legal knowledge extracted from real-life stories to be able to protect themselves when living far away from their families. Besides, fundamental skills and knowledge learned from the 'Orientation Week' along with complementary activities from university's clubs will create "resistance" for new students to avoid unnecessary mistakes, thereby concentrating well on learning goals as well as accumulating knowledge and skills during years at university.
However, not all new students are alert and brave enough to select the right path. We have witnessed many students receive academic warnings when deeply involved in the multi-level business. They lost a large amount of money after participating in a training course on how to sell, how to build a branch, etc. with attractive offers such as "invest tens of millions, receive hundreds of millions", quick capital turnover and promises of rapid promotion to manager.
Consequently, the DUE has sent a message to freshmen to be careful with offers and attractive part-time jobs such as an open working environment along with high income and suitable for students. The school also emphasizes that, if students have difficulties in living and finance, they should contact their school or teachers for initial support. Especially, do not arbitrarily lend personal papers such as citizen identification cards and student identification numbers to avoid resting debt growing on trees.
Mr Hung also warned that, in addition to being invited to join in business projects, students must also be wary of invitations to join associations and groups outside of the university, especially those hiding under in the name of supporting employment and learning to entice students to join religious and belief organizations. Therefore, first-year students need to be careful with new relationships and the attraction of strangers, which does not exclude the attraction from upper-year students under the name of compatriots and fellow students.
Reporting by HA TRAN- Translating by T.VY
.