Making effective use of all resources for digital transformation
December 29, 2021, 15:43 [GMT+7]
As being one of 10 wards and communes in Da Nang that have been selected to implement a pilot digital transformation project during the 2021-2025 period, Son Tra District's Phuoc My Ward, till date, has basically been on track to fulfill the goals set by the district, and made effective use of all existing resources and advantages to boost digital transformation.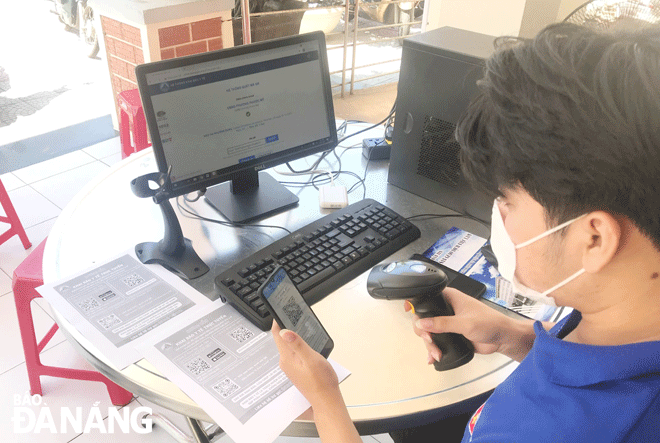 The People's Committee of Phuoc My Ward in Son Tra District always arranges staff to guide citizens on how to use information technology applications when submitting documents and procedures. Photo: THU HA
Specifically, the district has focused on organizing training courses on digital transformation; introducing smart applications, KuuHo app, shared software, and commercial platforms, and online payment applications to local residents, businesses, organizations and ward civil servants; and introducing digital transformation-related guidelines and policies, and benefits of digital transformation to businesses and individual business households.
According to Vice Chairman of the Phuoc My Ward People's Committee Nguyen Van Chung, after several month of the pilot implementation of digital transformation in the ward, the awareness of ward civil servants, public officials, people and businesses about the role and importance of digital transformation has been significantly raised. The positive result has been mainly attributed to the great efforts and strong determination of the ward leaders in promoting the building of e-government and boosting digital transformation.
Over the past times, the ward has coordinated with local functional units to boost digital transformation, especially in COVID-19 prevention and control activities. Included have been piloting the scanning of QR code entry cards to the Phuoc My wet market, promoting the application of digital technology in handling administrative procedures to support workers affected by the COVID-19 pandemic, the issuance of QR Code travel permits, and support services for food supply during lockdown.
Moreover, the ward has successfully applied electronic one-stop software, document management and operating software with 100% of e-documents signed by digital signatures, and online public services portal.
Vice Chairman Chung, however, pointed out some challenges in boosting digital transformation such as the unstable LAN infrastructure system, and some difficulties in registering for online public service accounts at levels 3 and 4.
In the time to come, Phuoc My Ward will make an attempt to ensure that 100% of its administrative procedures will be implemented online at level 4, 100% of dossiers will be made in the network environment, 50% of households and 90% of businesses in the ward will have e-commerce accounts, and non-cash payment in e-commerce operations wardwide will reach at least 50%.
Reporting by THU HA - Translating by M.DUNG
.