Some Da Nang university students return to campus with in-person learning, remainder set to join the class after Tet holiday
December 30, 2021, 21:13 [GMT+7]
Courses at Da Nang universities and junior colleges for the first semester of the 2021-2022 are nearing completion. Some schools have made great efforts to welcome their students back to campus in the wake of COVID-19 pandemic.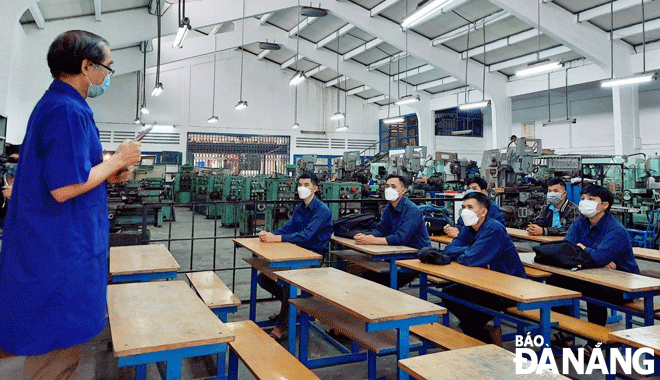 Students from the University of Educational Technology are attending face-to-face classes. Photo: NGOC HA
First-year students of the University of Economics have studied online over half a year due to COVID-19 and such students living in Da Nang are now attending in-person classes in order to create excitement for them in the school.
The University of Economics has a health and safety policy in place to protect its students and staff. Lecturers and students who are eligible for attending face-to-face classes are required to be fully vaccinated and to provide certificate of having recovered from COVID-19 within the previous 6 months.
The school will continue to work with the agency to offer second vaccine doses to its students who got first shots in a bid to facilitate them to join the class in person as soon as possible.
Till date, only the above-mentioned schools out of total universities in Da Nang have welcomed their students back to campus since early December.
The University of Science and Technology has already resumed face-to-face teaching for its 2018, 2019 and 2020 students for taking experimental, and internship modules in the first semester since January 27.
Assoc. Prof. Dr. Nguyen Hong Hai, the Vice Rector of the University of Science and Technology, said that the COVID-19 situation in Lien Chieu District has been improved and the school will facilitate final year students to take experimental modules that allow for progress toward timely graduation.
Most junior colleges and universities across Da Nang plans to resume in-person teaching for their students after Tet holiday with proper precautions in place to prevent the spread of the virus in the new normal.
Reporting by NGOC HA – translating by H.L
.