Helping students turn startup ideas into reality
January 05, 2022, 11:20 [GMT+7]
Getting their own startups from university lecture halls is what many students are aiming for. However, converting an idea into a reality (regardless of the required investment of time and money) is never an easy task. Therefore, students really need a pedestal to realize their ideas.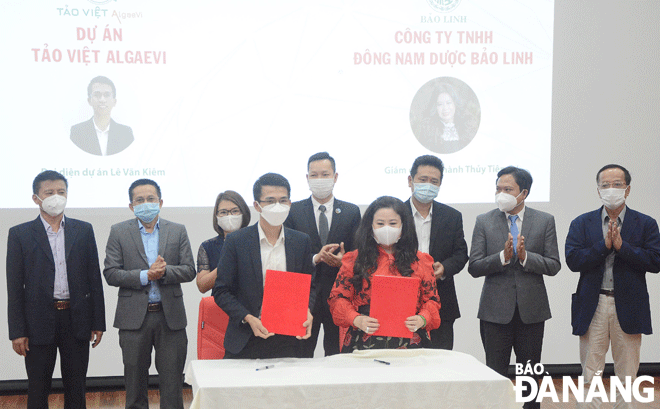 Mr. Le Van Kiem (front row, left), a representative of the Tao Viet AlgaeVi project, signed a cooperation agreement with the representative of the Bao Linh Oriental Medicine Co., Ltd., in early December 2021. Photo: M.QUE 
In early December 2021, the Tao Viet AlgaeVi project (the creation of value-added products from spirulina biomass) graduated after completing its one-year incubation journey in the Da Nang Hi-tech Park in Hoa Lien Commune, Hoa Vang District.
Right at the graduation ceremony, the AlgaeVi research group signed a cooperation agreement with the Bao Linh Oriental Medicine Co., Ltd.
As saying about the AlgaeVi project, Director of the Bao Linh Oriental Medicine Co., Ltd., Le Thanh Thuy Tien, said that the breakthrough product caught up with the needs of the community in taking care of health from high-tech, environmentally friendly research and production processes.
This can be considered an important mark for a project starting from a university lecture hall. It is known that the Tao Viet AlgaeVi project was born from the microalgae technology research laboratory of the Faculty of Biology - the Environment at the Da Nang University of Education nearly 5 years ago.
Although many members of the project are still students, the project has, to date, achieved some remarkable results on their startup journey such as increasing sales of products, owning breeds and advanced production processes, and successfully transferring technology to businesses in the city.
Mr. Le Van Kiem, Director of the Healthy Fungi One Member Co., Ltd., a representative of the AlgaeVi project, said that during the incubation journey in the Hi-Tech Park, the project was interested by the Bao Linh company. Therefore, the two sides had an exchange of technology and development orientations in the future with the aim to produce added-value products from international standard spirulina.
The initial success of the Tao Viet AlgaeVi project is a proof that students' startup ideas from university lecture halls can be brought to life. However, it still has to be recognized that the commercialization of startup ideas depend on many factors.
In reality, from 2014 to now, a number of startup competitions for students have been held regularly by universities across the city, but few projects have found a foothold in the market.
Startup experts explained the reason that students are facing a severe lack of investment capital, experience, knowledge, management skills, etc. Many students, although very determined, then have to give up due to a number of difficulties that they could not fully imagine before starting a business.
According to CEO of the Songhan Incubator (SHi) Ly Dinh Quan, the biggest strength of students is their creativity and strong determination to pursue their passions.
He, however, added that in order to be successful, students need to learn more knowledge beyond their expertise and soft skills.
"Many businesses are willing to support capital and accompany students to develop their products, but students also have to improve their own skills other than specialized skills" said Mr. Quan.
In an effort to support and create a solid foundation for students to start a business, in late 2021, the Da Nang Department of Science and Technology signed a cooperation agreement with the municipal Youth Union and the University of Da Nang for the 2022-2025 period.
Under the deal, greater efforts will be made to promote innovative innovation startup activities among students, and scientific research and technology transfer among young people.
Also, the three sides will together build a creative space in schools to help students access science and new technology, support for commercialization of research results of Youth Union members and young people, and connecting innovative ideas and products of union members and students with businesses in need.
Dr. Le Duc Vien, the Director of the municipal Department of Science and Technology, remarked students' startup ideas are an important factor to develop the city's innovation startup ecosystem.
In the coming time, the Department will do its utmost to create an atmosphere and a spirit for innovation and creativity among students and the youth, thereby promoting the impulse spirit of union members and youth with the motto "each union member is an initiative tree, each Youth Union organisation is a creative incubator".
Reporting by MAI QUE - Translating by MAI DUNG
.