Shipway: smart transport solution released in Da Nang
January 19, 2022, 18:30 [GMT+7]
Thanks to his own experience in the field of transportation and a strong desire to solve difficulties in the freight transport industry, Duong Minh Hung, 31, a resident in Hoa Vang District, Da Nang and his associates have chucked out their noticeable brainchild: the Shipway app, which helps connect goods owners with vehicle owners.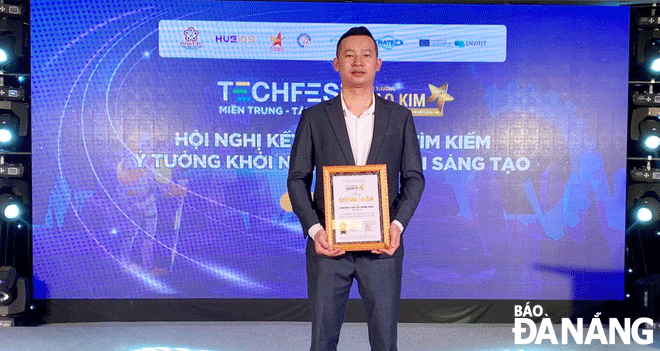 The representative of the Shipway project receives the second prize at the Techfest in the Central Viet Nam and Central Highlands regions in 2019. Photo: M. QUE
Hung came up with the Shipway idea at the end of 2018, after about seven years of having worked in the field of transporting.
With his rich experience, Hung realised that traditional transport methods have many disadvantages. Many people who often have goods that need to be transported, they shall enter into deals with one or two transport companies, leading to dependence and difficulty in handling if the transport service provider faces a shortage of vehicles or some unexpected problems. Besides, the owner of a personal truck can not receive any delivery orders during many days at all.
In a bid to deal with these aforementioned matters of deep concern, Hung came up with the idea of an app to facilitate the transportation of cargo weighting 1 tonne or more, bulky goods, and those with great value.
Although there are many similar applications on the market, but each of them has disadvantages that have not satisfied customers such as inconvenient payment, the limited freight weight thresholds and small service coverage which resulted in transportation limitations.
Therefore, when discussing the idea of Shipway with his associates, Mr. Hung wished that this app would have superior features and remedy the above-mentioned disadvantages.
After more than a year of research, in early 2020, the Shipway app was completed and tested on the market with two platforms, "Shipway: vehicle owners" and "Shipway: goods owner" operating on both iOS and Android.
In just a short time of its testing, the app has attracted more than 1,000 customers across the country, about 300 of whom were goods owners and the rest were vehicle owners.
Normally, the processing speed to match the goods owner with the vehicle owner is quite fast as it only takes 3 seconds for orders to be notified to the driver, and 5 - 10 minutes for negotiations between goods and vehicle owners.
The application is installed so that shippers can find vehicles within a 350km radius and travel range from South to North.
Both goods and vehicle owners when registering to use the app have their records carefully checked by Shipway's management team to ensure authentic information. Shipway also recommends that vehicle and goods owners have the right payment arrangements in place for smooth shipping. After 10 months of testing in the market, Shipway reached a revenue of VND400 million in 2020. Although the initial revenue was still modest, Shipway pledged to overcome challenges.
In 2021, in the face of more complicated impacts of COVID-19, Shipway focused on building the new users-friendly interface and improving user experience in the form of virtual assistants.
At the same time, based on the existing startup network in Da Nang and some big cities and provinces such as Ha Noi and Ho Chi Minh City, the Shipway team has actively marketed and built up a stronger reputation in the cargo transport market.
In June 2021, the Da Nang Department of Science and Technology has given VND 230 million in support for the Shipway for the sake of further research and development tasks.
At the end of November 2021, Shipway was one of the four projects to have been selected for the second incubation course at the Da Nang Hi-tech Park General Service Centre (DSC) in Hoa Lien Commune, Hoa Vang District.
Under the incubation programme, Shipway and the three remaining projects will receive comprehensive support from DSC, including working and production premises, training courses, legal support, and ways to connect with investment funds and other resources to produce products and bring them closer to customers.
As for Shipway's future orientations, focus will be on increasing more support for the owners of construction materials and agricultural products.
Reporting by MAI QUE – Translating by A.THU
.