Comprehensive contact tracing and narrowing isolation on smallest possible scale in schools
February 18, 2022, 09:59 [GMT+7]
Till date, junior and senior high schools across Da Nang have resumed in-person teaching with proper precautions in place in a bid to maintain the environment that are as safe as possible for their teachers and students. However, there have been quite a lot of students with confirmed COVID-19 and primary close contacts in schools that has affected their teaching and activities. Therefore, high priority is given to narrowing isolation on the smallest possible scale in schools which is one of the key measures designed to keep schools open for in-person learning.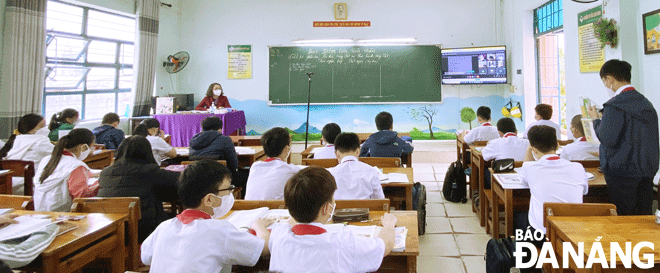 The Le Do Junior High School located in Son Tra District is seeing their teachers running classes where some students are attending in person, and at the same time, the quarantined ones are joining the live class from home via video conferencing. Photo: NGOC HA
The schools are opening with the protective measures in order to keep their teaching staff and students safe and healthy during the pandemic. The schools are encouraging voluntary compliance with the 5K recommendations of the Ministry of Health and other COVID-19 precautionary measures among their students in an attempt to protect themselves and others. In addition, high priority is given to developing protocols for the referral, tracing and isolation of students and staff who are exhibiting COVID-19-related symptoms or with confirmed diagnoses. The heed is paid to taking proactive measures to handle COVID-19 in schools in line with the recommendations from the Ministry of Health. Special attention is given to timely isolating those with confirmed or suspected COVID-19 in a bid to curb the spread of the virus while ensuring the continuity of face-to-face learning for students.
Besides, schools are focusing on raising the awareness of the concept of the new normal amid COVID-19 among their students, and increasing their awareness, attitudes and adherence to safety precautions, as well as enhancing their awareness on COVID-19 in a bid to reduce social stigma of patients suffering from COVID-19.
Data published by Da Nang schools shows that the number of students who are studying online at home is still quite high as they are COVID-19 patients, and the primary close contacts, or are living at alert level 4 areas. Within a week of opening, there are 85 infected students, 156 primary close contacts, 12 infected teachers at the Huynh Thuc Khang Junior High School, 10 infected students, 7 infected teachers at the Trung Vuong Junior High School, 40 infected students at the Ly Thuong Kiet Junior High School, 65 infected students and 331 primary close contacts at the Le Do Junior High School. Moreover, nearly 200 students or 15-20% of the total students at the Son Tra Senior High School are daily unable to attend in-person class as they are infected with COVID-19, the primary close contacts or living at alert level 4 areas.
Therefore, Da Nang's schools are implementing blended learning approach that can combine the best of both traditional and online instruction to offer engaging learning experiences for students who are attending physical classes and are self-isolating at home in efforts to keep quarantined students learning.
According to principals of some junior high schools, narrowing isolation on the smallest possible scale in schools after COVID-19 cases are detected along with conducting comprehensive COVID-19 contact tracing are key measures designed to keep schools open amid the new normal as social and economic activities in Da Nang are back at normal levels. They also remarked that the safe reopening of schools will provide mental health and psychosocial support for students, especially ninth and twelfth graders, and improve the quality of education in schools.
Mr Mai Tan Linh, the Deputy Director of the municipal Department of Education and Training said that gradual adaptation of schools to COVID-19 in the new normal will progress over time. The Department will work with the health agency and the municipal Steering Committee for COVID-19 Prevention and Control to issue an appropriate policy for in-person learning that allows the flexibility and adaptability to the new normal amid COVID-19 but not neglect the city's COVID-19 guidelines in an attempt to prevent the spread of the virus and reduce confusion in parents of students.
Reporting by NGOC HA – Translating by H.L
.