Da Nang preschools busy preparing to welcome children back to school
February 20, 2022, 17:42 [GMT+7]
Under the guiding document of the Da Nang Department of Education and Training, preschool educational institutions are allowed to resume in-person teaching from February 21. Currently, schools are urgently cleaning up after a long pause of operation owing to the COVID-19 pandemic.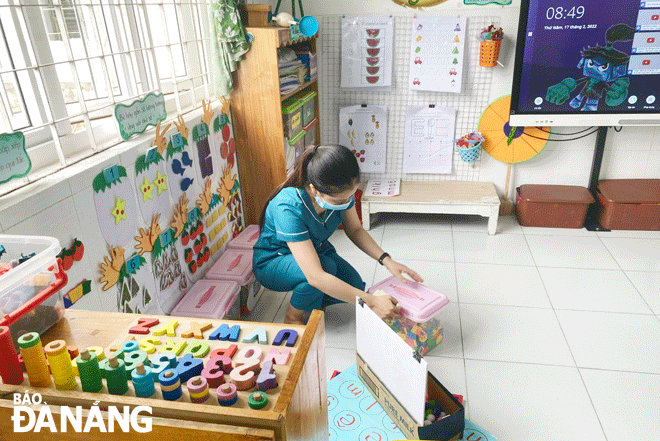 Teachers of Binh Minh Kindergarten have cleaned the school since February 17 to welcome children back to study. Photo: NGOC HA
Ready to welcome kids back to school
As shared by Ms Nguyen Pham Nhat Vy, Principal of Tuoi Hoa Kindergarten, Thanh Khe District, teachers and staff of the school have cleaned classrooms and are ready to welcome children back.
At the same time, the school has also assigned people on duty to remind pupils to disinfect and measure body temperature; establish a medical room for temporary isolation as soon as detecting suspected COVID-19 cases.
So far, all teachers and staff here have received 3 doses of the COVID-19 vaccine to ensure safety for themselves as well as children when starting part-boarding from February 21
In the same vein, all staff, teachers and workers of Binh Minh Kindergarten, Hai Chau District have already cleaned the classroom, equipment and toys. According to the school's latest survey results, more than 50% of parents agree to let their children back to study on-site. This result partly reflects the current psychology of parents being more secure to flexibly adapt to the new situation of the pandemic.
The school is ready to welcome the children back as soon as possible with the motto that children's safety comes first.
Similarly, non-public preschool educational institutions are also preparing to open schools again. Vanh Khuyen Kindergarten School in Cam Le District has taken advantage of weekends to do general cleaning and plans to test COVID-19 for the teachers and staff regularly since they usually have close contact with children.
Meanwhile, Not Nhac Xanh Kindergarten in Lien Chieu District is slated to open again on February 28 to prepare the best safety conditions for pupils when they return to school.
Urging and inspecting conditions for COVID-19 prevention and control
For the time being, while some schools in the city are slated to welcome children back on time, others are one week behind this time. The Departments of Education and Training of districts have had delegations to inspect the preparation of conditions according to COVID-19 prevention and control regulations for in-place teaching at preschool educational institutions citywide.
According to Ms Nguyen Thi Thanh Huong Deputy Head of the Department of Education and Training in Thanh Khe District, 10 local public preschools and 5 private schools are going to open to welcome children on February 21, the remaining private schools are going to greet children since February 28.
The inspection has focused on the school cleaning and disinfection, plans to monitor and supervise children's health problems at school, disease prevention communication in schools, the school's response to a suspected case and how to address when detecting a COVID-19 case in the school.
Similarly, Mr Vo Trung Minh, Head of Education and Training Department of Son Tra District, informed that on February 18, the department had inspected all 8 eligible public preschools to open on February 21.
Other private preschools will also be checked allowed to open subject to appropriate conditions.
Meanwhile, Deputy Head of the Department of Education and Training in Lien Chieu District Nguyen Thanh Lich said that the unit advises preschool educational institutions in the district to organize direct teaching from February 28 based on a survey of parents' opinions, the preparation of teaching and studying facilities, supplementing medical supplies as well as pandemic prevention and control plans.
Reporting by NGOC HA- Translating by T.VY
.