Da Nang's university students get ready to return to in-person school
February 11, 2022, 15:32 [GMT+7]
Da Nang universities are excited to welcome their students back to campus from February 14.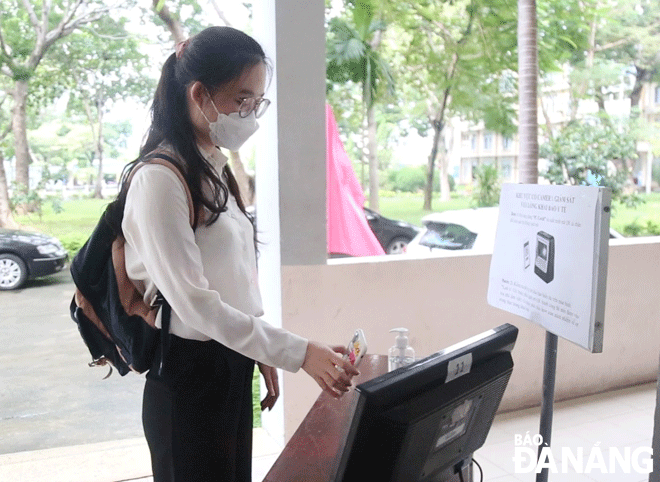 Students at the Da Nang University of Economics filling out online health declaration form before entering their school. (Picture was taken in January 2022). Photo: NGOC HA
Universities come back all at once
Most of member schools of the University of Da Nang have planned to return to in-person instruction from February 14. Included are Polytechnic University, University of Technical Education, and the University of Education.
Meanwhile, the University of Economics will come back from February 21. Currently, first-year students at the University of Economics take online semester exams while the remaining students continue with remote learning before returning to campus from February 21 as planned. In a similar vein, Year 2 and above students at the University of Foreign Languages will be back in classroom from February 14 while first-year students will return from March 14. The Da Nang-based Viet Nam-Korea University of Information and Communication Technology will come back from February 28.
Till date, a number of university students from other parts of the country have already returned to Da Nang in order to prepare for going back to lecture hall.
Creating the most favourable conditions for students to return to the classroom
In their efforts to achieve successful implementation of dual-task strategies of ensuring good teaching practices and effective prevention and control of COVID-19, Da Nang universities have issued regulations and plans to ensure a safe return to in-person school for their lecturers and students.
Assoc. Prof. Dr. Nguyen Hong Hai, the Vice Rector of the University of Science and Technology, said that lecturers along with undergraduate and postgraduate students will be allowed to go back to lecture hall if they meet the following criteria:
-These people with certificates showing that they have received two doses of COVID-19 vaccine (the final dose at least 14 days before their return to the classroom). Those who have previously contracted the coronavirus must have certificates to prove that they have recovered from the virus, and these certificates were issued no more than 6 months before their return to classes.
Assoc. Prof. Dr. Nguyen Hong Hai also remarked that the school will work with the health agency to give second jabs to students who have received just one dose. He also asked the school's students to return to campus from February 7 to 13 to get a third dose under the city's COVID-19 booster vaccination programme.
Assoc. Prof. Dr. Le Van Huy, the Vice Rector of the University of Economics, said that the Da Nang Student Support Center is working with such organizations as the municipal Youth Union and the municipal Students' Union to provide practical support for students, especially first-year students. In addition, students can access to information about accommodation and employment opportunities along with issues related to student life and the city's vaccination schedule by visiting their school's website.
Meanwhile, Assoc. Prof. Dr. Phan Cao Tho, the Rector of the University of Information Technology Education said that the school has experienced in dealing with the COVID- 19 pandemic as it has already welcomed its final year students back to campus. Moreover, the school considers paying for COVID-19 tests for its students with suspected COVID-19 symptoms.
Reporting by NGOC HA – Translating by H.L
.