Ensuring safe return to in-person school for Da Nang's students from years 7-12
February 08, 2022, 17:36 [GMT+7]
All students from years 7-12 across Da Nang returned to in-person learning on Monday, February 7 after Tet Festival. Monday also marked the first time back in the classroom for seventh graders after a long time of virtual learning at home due to the COVID-19 pandemic, and their schools are well prepared for a safe return of their students.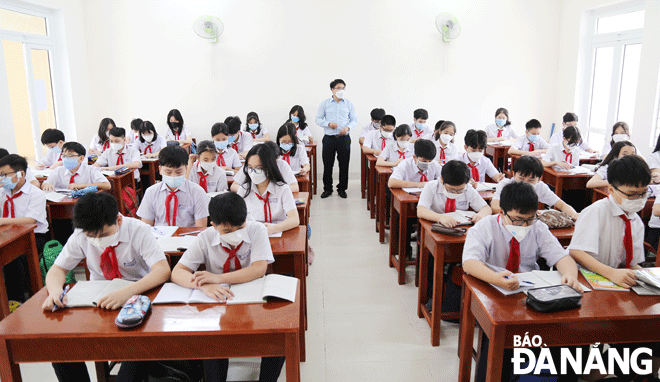 Students in year 7 from Nguyen Hue Junior High School are on first day of return to classes. Photo: NGOC HA
Stringent health and safety measures in place at schools
We observed that Da Nang's schools have taken measures to get students back on campus safely.
The schools are opening with the protective measures in a bid to maintain the environment that are as safe as possible for their teachers and students.
Students of Do Thuc Tinh Junior High School located in Hoa Khuong Commune, Hoa Vang District are required to have their body temperature checked and follow the 5K recommendations of the Ministry of Health to protect themselves and others from COVID-19.
In a similar vein, Nguyen Luong Bang Junior High School in Lien Chieu District and Nguyen Hue Junior High School in Hai Chau District are using lane separations for students at entry and exit points in order to limit crowding at these areas. Students are recommended to regularly wear a face covering and disinfect their hands, do not share food or drink as well as avoid gathering/socializing when coming to/leaving school and during class breaks.
Mrs Nguyen Thi Phuong, a mother of a 7th grader at Nguyen Hue Junior High School in Hai Chau District, said that the pandemic has forced all classrooms to move online, be it for pre-primary, primary, secondary, senior or university-level education. She remarked that online learning keeps children and teachers safe in the midst of a pandemic but it also brings stress and exhaustion with it. So, she is very happy and feels secure as her child can now go back to face-to-face classes with proper precautions in place.
Combining face-to-face and online education
Till date, many students and teachers in Da Nang have tested positive for COVID-19 so schools across the city see their teachers running classes where some students are attending in person, and at the same time, other students join the live class from home via video conferencing. This helps schools implement social distancing measures and means that self-isolating students can still continue to learn.
As of February 7, there had been some junior high schools in the city that have yet to resume face-to-face teaching, and their students continue learning remotely as these schools are located in areas at alert level 3.
According to the new guidance published by the municipal Department of Education and Training, at alert level 1 and level 2, teaching, assessment, and activities will occur on campus as usual with proper precautions in place while at alert level 3 and level 4, all teaching and assessment will be delivered online. Campuses at alert level 3 and level 4 are closed to the public, staff, and students. In addition, Da Nang's schools are implementing blended learning approach that can combine the best of both traditional and online instruction to offer engaging learning experiences for students who are attending physical classes and are self-isolating at home in efforts to keep quarantined students learning. Meanwhile, preschoolers and students in years 1 to 6 continue to learn from home in order to keep them safe amid the complex developments of COVID-19.
Reporting by NGOC HA – Translating by H.L
.