Many Da Nang parents applaud resumption of in-person learning at school
February 10, 2022, 18:24 [GMT+7]
As expected, 6th graders and primary /preschool kids in Da Nang will simultaneously return to school for in-person learning from February 14 and 21, respectively after a long campus closure triggered by COVID-19.
Widely informed of the face-to-face learning resumption, many parents across the city have expressed their excitement and expected eligible schools for re-opening to carefully prepare good plans to ensure the ultimate safety of their children.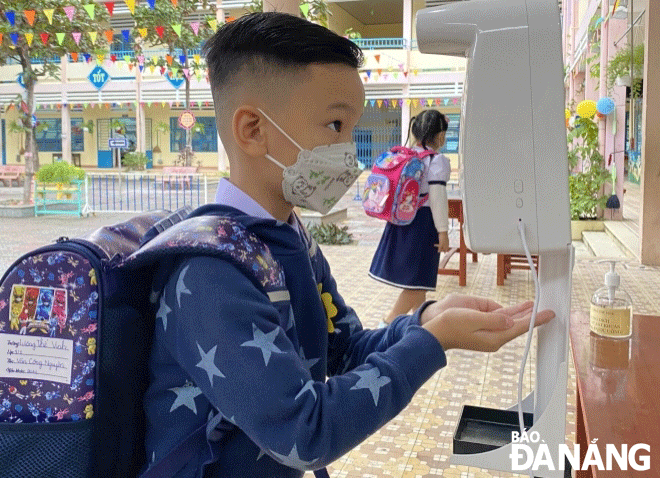 Primary school students have spent the first semester of this academic year 2021 - 2022 via online learning due to the impact of COVID-19. The first-graders of the Luong The Vinh Primary School in Son Tra District went to school for a week at the end of 2021. Photo: NGOC HA
"I'm glad with my children's school comeback"
As soon as the municipal administration gave a nod to the re-opening of local schools, many parents expressed their great excitement and applause.
Mr. Nguyen Trong An, a resident in Khue My Ward, Ngu Hanh Son District, whose child is a 6th grader at the Le Loi Junior High School, applauded a decision made by the municipal People's Committee to reopen schools for the 6th grader and primary /preschool pupils.
"It's time to reopen schools - children can't stay at home forever", said An.
In his explanations, Moreover, in Year 6 this year, students must access a new general education programme, but the whole first semester of online learning was not very effective.
Meanwhile, despite the setting up of Zalo groups for mutual exchanges on studies and interactions, many students still like to make school return to meet with their teachers and peers in person.
Likewise, Mai Nhu Nguyet, a resident in Phuoc My Ward, Son Tra District complained that, over the past months, her children have stayed at home for online learning whilst she and her husband have maintained their work at their offices. Therefore, Nguyet did not feel secure about their at-home safety.
"I usually opened the CCTV camera whistling being at work in my office to monitor my children. Now, I and my kids are every eager with the school re-opening decision made by the municipal administration", said Nguyet.
"Let's children come back to school so that they can develop knowledge, social communication and other necessary life skills", said Ms. Nguyen Thi My, resident of Thach Thang Ward, Hai Chau District.
"After the Tet break is the right time for children to go back to school," another parent said, adding that adults have returned to work and can go to public places, so children should too.
In reality, in-person learning will help boost the interaction between teachers and students and help students to absorb lessons more smoothly.
In particular, co-operation from parents and students to ensure the "5K" message released by the Vietnamese Ministry of Health and the practice of other COVID-19 preventive measures is a must-do.
According to experts of psychology, childrens' movement and communication can be limited during their long stay at home. Also, stay at home and being exposed to computers and smartphones for too long would make them gradually "lose" their emotions.
Other mental and physical health consequences are anxiety, depression, emotional disturbances, vulnerability, or irritability.
Develop a specific plan for safely welcome students back to school
Till date, many schools have completed the rehearsal to be ready to welcome their students back.
As revealed by Mr. Vo Thanh Phuoc, Principal of Nguyen Hue Junior High School, this school has developed a plan to deal with the unexpected occurrence of COVID-19 cases here.
If a class reports a COVID-19 case, the school's board will actively make a shift from face-to-face to online learning and the common curriculum framework must be ensured.
Parents must monitor their kid health at home, always implement the 5K protocol and limit contact with others around.
If the coronavirus-infected kid suffers from some symptoms, a report to local health authorities must be made. After 7 days as prescribed, the school will develop a plan and welcome students back to school for face-to-face learning.
During the operation of in-person learning, the school will consider running morning/ afternoon sessions per day.
"In order to ensure the safety of students when returning to school, I suggest the functional departments speed up the administration of COVID-19 vaccines for schoolchildren aged 5-11 and support funding for rapid COVID-19 tests for teachers and students before school comeback", Mr. Phuoc commented.
Ms. Nguyen Quoc Thu Tram, Principal of Binh Minh Kindergarten in Hai Chau District said "Even if there are 5-7 children in each class, we still want to teach them in person. Ensuring the safety of children is always a top priority and awareness of pandemic prevention amongst school managers and teachers has been enhanced. Therefore, parents can feel secure about sending their children to school".
Reporting by NGOC HA – Translating by A.THU
.