Outstanding stories about funding for education
February 04, 2022, 11:26 [GMT+7]
Recently, a Vietnamese businesswoman hugely sponsoring £155 million, equivalent to VND 4,900 billion, for Linacre, a graduate College of the University of Oxford, the U.K., has attracted great public attention. We know that the success of famous universities in the U.S. such as Harvard, Stanford, Princeton, Texas, Yale and MIT is partly attributed to the funding from billionaires.
Let's take a look back at some of the typical grants for the Vietnamese education such as Junko School, the projects supported by billionaire Chuck Feeney, as well as the famous Stanford University in the U.S. to have a clear picture and expectations for education in Da Nang as well as the Central Viet Nam at large.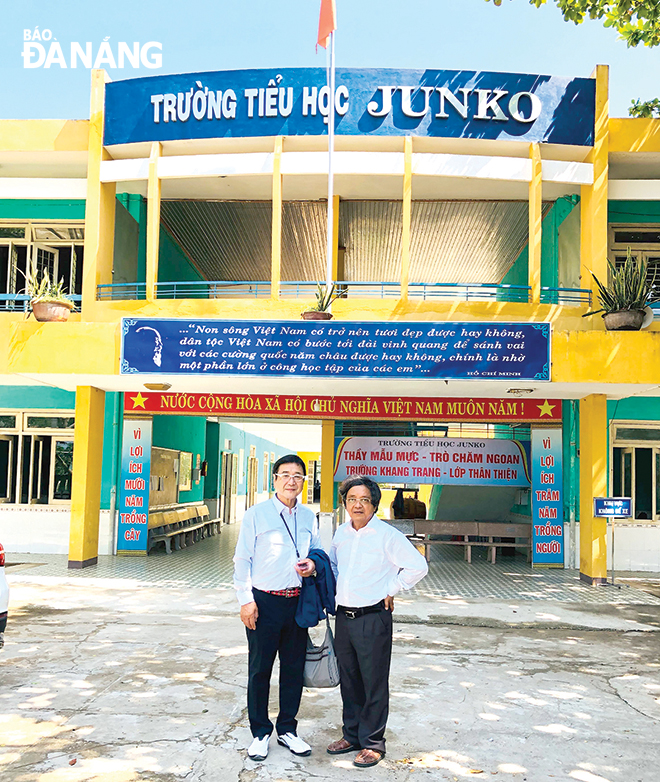 Mr Takahashi Hirotaro (Junko's father) and Prof. Dr Tran Van Nam (right) visit Junko Primary school in 2019.
"Junko Primary School"
In 1994, Mr and Mrs Takahashi Hirotaro and Professor Ebashi Masahiko, on the recommendation of Prof. Tran Van Tho, came to Quang Nam - Da Nang to support Vietnamese children in disadvantaged areas to pursue an education as per the wish of Junko, their beloved daughter.
The story began in 1993 when, Junko, a then-third-year student of the Meiji Gakuin University in Japan, visited Viet Nam. After becoming aware of the lack of educational opportunities for children in low-income Vietnamese families, the warm-hearted returned to her hometown in Japan to develop a plan to help poor children get the education they deserved. Unfortunately, Junko passed away in an accident later that year at the age of 21, leaving her desires incomplete.
At that time, although Viet Nam had implemented the 'Doi Moi' policy for 8 years, there were still some difficulties for the city to receive funding from an individual in a capitalist country for education.
However, thanks to the broad and decisive vision by Mr Nguyen Dinh An, the Vice Chairman of the Provincial People's Committee at that time, and Mr Nguyen Hoang Long, the Director of the Department of Education and Training, the project proceeded smoothly. It can be said that at that time, receiving a grant of US$128,808, equivalent to VND1,419 billion, to build a spacious school in Dien Phuoc Commune, Dien Ban District, with fully equipped facilities, named "Junko Primary School" is the dream of all primary schools in rural areas.
In order to nurture and spread the academic dream under the will of Junko, the Meiji Gakuin University established the Junko Association (JA) under the auspices of professors and alternately chaired by university students.
In Da Nang, JA also cooperates with the Student Union of the University of Da Nang in exchange activities, academic activities, charity to enrich more meaningful activities. Every year, JA sends delegations to visit the Junko school to give scholarships and gifts as well as help renovate facilities.
Thanks to this good relationship, the Meiji Gakuin University and the University of Da Nang entered into a cooperation agreement on cultural and scientific exchanges and annual granting of a full scholarship to study at this Japanese university for one student from the University of Da Nang who studied at the Junko school in the past.
In addition to activities at the Junko Primary School, JA also extends its meaningful activities to other primary schools in Quang Nam Province such as supporting scholarships for poor students who are studious, exchanging entertainment and scientific games of Japanese students. Besides, JA also develops volunteer activities for students from Laos, Cambodia, especially Myanmar.
In 2020, Mr Umeda Kunio, Japanese Ambassador in Viet Nam, together with Mizuno Company visited the school and gave gifts and pledged to support to open Japanese language teaching classes at the school and grant other scholarships.
The Junko School also naturally became an attraction for Japanese tourists. For the past 25 years, generations of students in the poor commune of Dien Phuoc have followed Takahashi Junko's dream to study hard, and contribute to building a richer and stronger homeland.
"Give it all the way while still alive"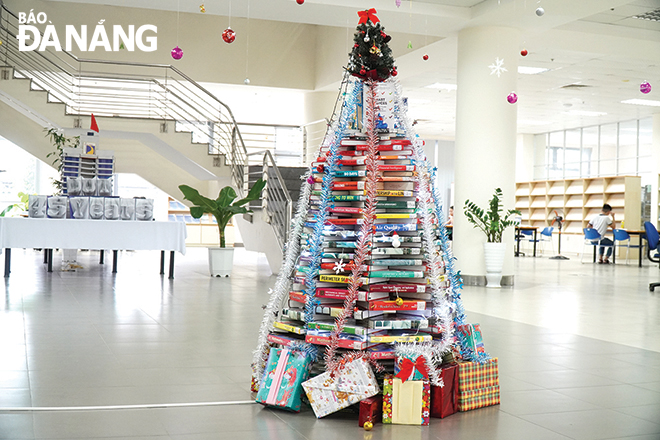 The operation of the library is sponsored by billionaire Chuck Feeney.
Irish-American billionaire Chuck Feeney has just fulfilled his wish to "give while still alive" by donating $8 billion to support higher education, public health, scientific research and left only US$2 million for the rest of his life. Chuck Feeney inspired other billionaires such as Warren Buffett and Bill Gates, and many others, to set up foundations and pledge to give half of their fortunes or more to charity. Warren Buffett has donated to high school education, the University of Limerick, Cornell University and health care activities as well as the US community. In Viet Nam, he sponsored $381.5 million to support universities, improve public health, and focus on libraries.
He also sponsored for the University of Da Nang to establish the most modern Physical Education Centre in Viet Nam, for 60 English teachers to study a master's degree in Teaching Methods of English (TESOL) for teachers teaching English as a foreign language at the University of Queensland (UQ) and for 25 librarians to study management and exploitation modern libraries in American universities. In addition, he also sponsored the lecturers of the University of Da Nang with the Doctoral Development Program at the UQ, making an important contribution to improving the quality of the doctorate.
Stanford University founded in 1885 by California senator Leland Stanford, a railroad tycoon and the Governor of California with his wife, Jane Stanford, is currently in the five most valuable private universities in America. Stanford University has earned many outstanding achievements such as 48 Nobel Prize winners, 5 Fields Medal winners, 17 Turing Prize winners ("Nobel Prize in Computer Science").
Stanford alumni have founded numerous companies. According to Forbes, this school has produced the second-highest number of billionaires of all universities with 25 people. Some stand out among the successful Stanford alumni in technology such as William Hewlett and David Packard (founding the mighty HP Corporation), Jerry Yang and David (Yahoo), Sergey Brin and Larry Page (Google), Mike Krieger and Kevin Systrom (co-founders of Instagram), Reed Hastings (co-founder, chairman and CEO of Netflix), Reid Hoffman (co-founder and chairman of LinkedIn). These alumni not only sponsor a lot of money for the school, but they also employ a lot of Stanford University graduates, especially giving strong fame to their school.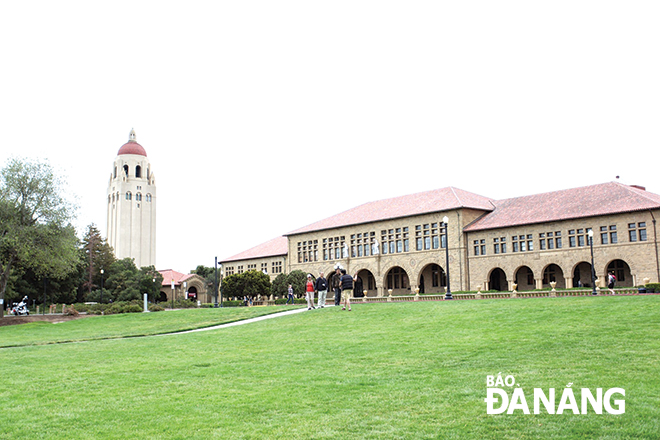 The Stanford University campus.
More and more rich people want to fund education
The rich in Viet Nam mostly get rich from land, real estate, exploiting mineral resources, then finance and banking. On the contrary, investing in science, technology, or in other words, grey matter is the way to promote wisdom and get rich in the world today and in the future.
Therefore, if we do not invest in education and training of quality human resources, natural resources and land will also exhaust. More than 120 years ago, the president of Harvard University advised billionaire John D. Rockefeller that it takes US$50 million (equivalent to US$5 billion today) and 200 years to create a research university. However, the University of Chicago took only 20 years to reach the top position with more than US$50 millio.
In Asia, the Hong Kong University of Science and Technology (HKUST) took 9 years since the opening of the first course in 1991 to rank 7th in Asia according to Asia Week; took 19 years to rank 35th in the top 200 universities in the world and now ranks 27th in the world according to QS Ranking 2021.
All in all, if there is a clear and transparent vision, mission, and good governance in the era of globalization, the rich will want to invest and aid the development of Vietnamese education to help our country rapidly shorten the gap with the education of advanced countries. However, the development of education needs time and a lot of patience. And tomorrow starts from today.
Reporting by Prof. Dr TRAN VAN NAM- Translating by T.VY
.