Da Nang gears up construction of schools and classrooms in preparations for new academic year
June 07, 2022, 15:47 [GMT+7]
Under the project of developing new schools and upgrading downgraded ones for the 2021 - 2025 period approved by the Da Nang People's Committee in 2020, all local districts are accelerating the construction of new schools to meet students' learning needs citywide, with a heed paid to areas with rapid mechanical population growth.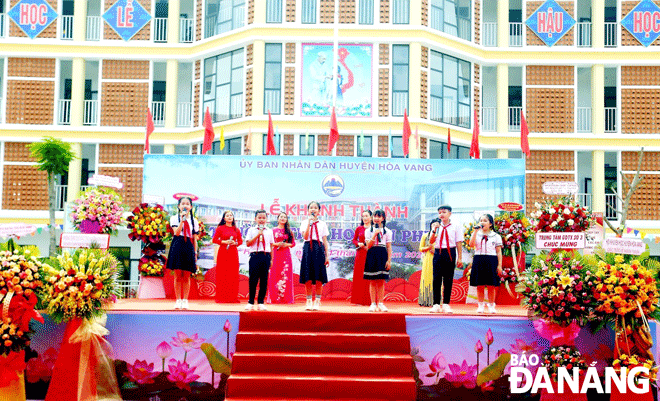 The An Phuoc Primary School project in Cam Toai Trung Village, Hoa Phong Commune, Hoa Vang District, Da Nang will be put into use in the 2022 - 2023 school year. In the picture, the inauguration of the An Phuoc Primary School took place in May 2022. Photo: NGOC HA
In May, An Phuoc Primary School in Cam Toai Trung village, Hoa Phong Commune, Hoa Vang District was inaugurated in ready for being officially put it into service from the upcoming 2022 - 2023 school year.
Work commenced on the Hoa Vang District People's Committee-developed project in early 2021 at a cost of VND 62.5 billion funded the municipal budget.
Ms. Nguyen Thi De, the school's Principal of said that the 4-storey school features 25 fully-equipped classrooms, an administrative block, a multi-purpose hall, a swimming pool, a modern library and other auxiliary facilities.
In the 2022 - 2023 school year, in addition to the An Phuoc Primary School, Le Kim Lang Primary School and Hoa Phong Kindergarten No. 2 will be open to students,
The Hoa Vang administration is also planning to allocate land to implement the project of building new schools and upgrading the existing ones in the 2021 - 2025 period.
In a similar vein, in Cam Le District, in the new upcoming school year, it is expected to put into use the Tran Dai Nghia Primary School's Campus No.2 and Huong Sen Kindergarten's Campus No.4.
According to the Cam Le District Office of Education and Training, the opening of the Tran Dai Nghia Primary School's Campus No. 2 will help relieve the current shortage of classrooms in the past time.
However, given the rapid increase in mechanical population in Hoa Xuan Ward, local voters proposed speeding up the construction of schools and classrooms here to meet actual needs.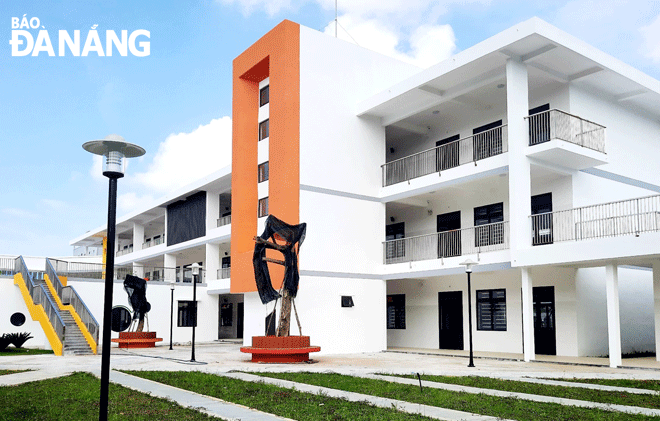 The Hoa Xuan Kindergarten, Hoa Xuan Ward, Cam Le District, Da Nang was built at a total cost of nearly VND28 billion, ready for welcoming students in the 2022 - 2023 school year. Photo: NGOC HA
For the time being, the Lien Chieu District government has developed a plan to build an inter-school on an area of nearly 19,000m² in Hoa Khanh Bac Ward with a total investment capital of nearly VND140 billion, the Trung Nghia Primary School in Hoa Minh Ward, a new primary school in Phuoc Ly urban area in Hoa Minh Ward.
The district's authorities have projected a medium-term investment plan for the 2021 - 2025 period with 66 projects in service for education, including the construction of a new kindergarten in Quang Thanh residential area 4A, Hoa Khanh Bac Ward, the rebuilt of the Thach Son kindergarten in Hoa Hiep resettlement area No.4 and the Mang Non Kindergarten's Campus No. 4 in Hoa Hiep Nam Ward, in tandem with building new classrooms for such primary schools as Nguyen Duc Canh, Trung Nu Vuong, Bui Thi Xuan and Hong Quang.
If the school construction projects are implemented on schedule, until 2024, it will be possible for primary school students to study for 2 sessions per day across the district.
According to Ms. Le Thi Bich Thuan, the Director of the Da Nang Department of Education and Training, under the school development project in the 2025 - 2026 period, the city will boast a scale of 452 schools with a combined total of 339,315 students. In detail, there will be 238 preschools, 109 primary, 64 junior and 38 senior high schools and 3 continuing education centres. The initial investment capital for the project is VND4,399 billion for 5 years.
Reporting by NGOC HA – Translating by A.THU
.