Da Nang starts 10th-grade entrance exam
June 10, 2022, 10:07 [GMT+7]
15,000 candidates Da Nang-wide started sitting for the 10th - grade entrance exam for the 2022 - 2023 school year on Friday morning with the hope of a good performance in the pivotal assessment.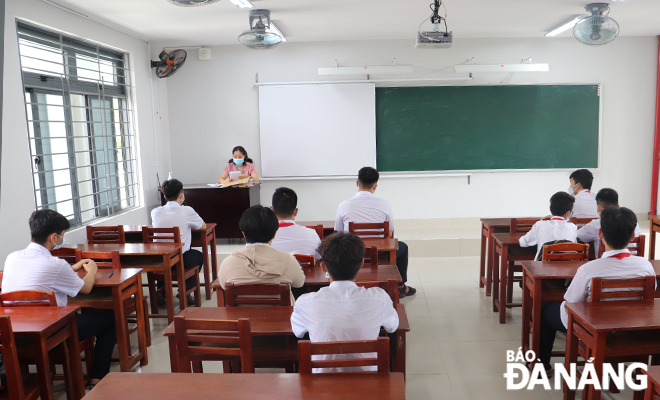 Candidates are informed about the exam rules prior to taking tests Photo: NGOC HA
The 2-day exam consists tests in math, literature and foreign languages. Public senior high schools only announced around 11,044 slots for the 2022 - 2023 school year.
Those who fail to seek berths in public schools will have to settle for private and vocational schools, and further education facilities, which are often considered inferior and low-quality by their parents.
The Department of Education and Training mobilised nearly 2,500 officials and teachers to join the exam committee's committees/teams, of whom 1,448 are exam invigilators.
About 180 police officers are assigned to be involved in ensuring the safety of the examinees and about 400 health care workers, security guards and other related employees are present at the city-designated exam venues.
For COVID-19 prevention and control, in addition to arranging disinfectant bottles and masks, 2 backup exam rooms exclusively for those suspected of contracting the disease are arranged at each exam venue
If a candidate in a test room is infected with COVID-19, all of the remaining exam takers must be subject to rapid tests for the disease. Those who are positive for the virus will be taken to a backup exam room to continue the exam.
On Friday, candidates took the Literature test of 120 minutes in the morning and they will sit for the foreign language test of 90 minutes in the afternoon. On Saturday morning, examinees will take the Math exam of 120 minutes. On Sunday morning, they will take a 150-minute specialised exam to be enrolled to the Le Quy Don Senior High School for the Gifted.
The 10th-grade entrance exam, also known as the senior high school entrance exam, held every year around June for 9th-grade students as well as independent candidates, acts as a standardised placement test for senior high schools in Viet Nam's K-12 system. The senior high school level consists of 10th, 11th and 12th grades.
The exam is deemed pivotal for middle schoolers there, as it is still believed by Vietnamese parents that a slot at top schools is a golden ticket to future success. Students strive to grasp slot in public senior high schools.
Reporting by NGOC HA - Translating by A.THU
.