Metaverse-highly potential market for startups
June 22, 2022, 18:16 [GMT+7]
With the goal of building a comprehensive virtual reality and digital twin for life, the Bizverse World platform will become a place where any user can easily bring their business activities online, conduct comprehensive digital transformation of business activities, increase outstanding efficiency with the maximum support of technology.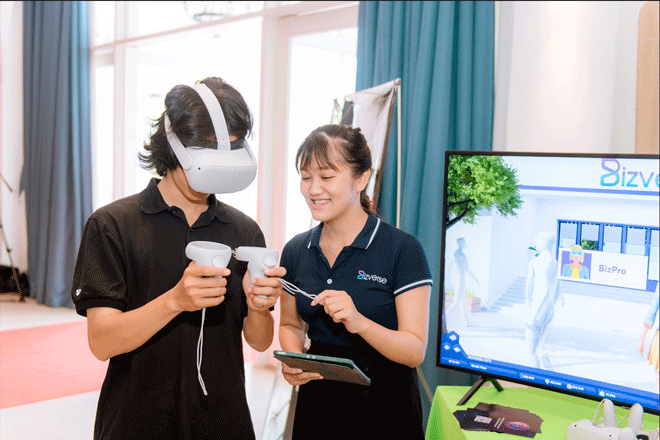 Customers experience the Bizverse World platform. Photo provided by Founder Bizvese World
Metaverse is a technology platform that is receiving great deal of attention of global experts. This is the term for "virtual super universe" - a trend in technology and business.
Ph.D Trinh Cong Duy, Head of the Metaverse and Digital Transformation Research Lab at the University of Da Nang, and founder of the Bizverse World project, shared: "Metaverse is considered a combination and convergence of many advanced technology as well as the inevitable development of the internet".
Not only the three technology giants such as Microsoft, Meta and Google, but the governments of Singapore, South Korea, Dubai, the U.S. and China are also investing in this technology.
In the context that Viet Nam is accelerating its global integration in the trend of 'full digitalisation', it is very important to use Metaverse as a way to promote digital transformation so as to solve socio-economic challenges.
He further explained, given the fact that Metaverse is a new concept in Viet Nam as a whole, since its establishment, Bizverse World has encountered many difficulties. It has to draw up a specific roadmap to help traditional businesses connect with partners, contact new customers whom they previously had found it hard to attract because of barriers by space, time and cost.
Furthermore, with the support of Bizverse World businesses may be able to sell new products that are not available in traditional or non-existent markets.
E-commerce is growing at a rapid pace, bringing home shopping experiences. However, the e-commerce experience currently only offers images and videos. Along with the development of the internet, the needs of people's experiences are increasing significantly as they want more in-depth experiences such as trying on items in different position within the house before deciding to buy products.
So as to allow users to interact with objects and other characters in the same virtual world in real time, there must be huge amounts of data to receive, transmit, analyse and respond with a extremely low latency.
Those requirements are very demanding on cloud server equipment, 5G networks, artificial intelligence and data centres. Besides, many businesses are highly concerned about security issues and the absence of specific regulations can make the metaverse an unregulated environment. Human resources are also another concerning issue facing startups.
But, up to now, the Bizverse World management team has gathered many leading experts in blockchain, website development, digital marketing around the world to implement the project
"Metaverse is considered a virtual world in which people live, work, shop and interact with others -- all from the comfort of their couch in the physical world. This advantaged technology helps change the way we live and work as well as handle common problems in such aspects as education, economy and management. It is expected that by 2030, the market size will be around approximately $1 trillion in the narrow sense, $8 trillion in the broad sense. This is also a new trend and opportunity for you to do startups in this field", said Mr. Vo Duc Anh, Deputy Director of Da Nang Innovation Startup Support Centre, Head of Metaverse Village - Techfest 2022.
Fully concurring with Mr. Vo Duc Anh, Ph.D Duy commented that the potential in the Metaverse market is still very large and there is much room for potential startups. However, he emphasised: "Starting a business in the technology field has never been easy and to make the difference in today's so-called 'flat world' is very difficult. The idea can be imitated, but if you do not go to the end of the journey, you may give up your startups".
Bizverse is developing Metaverse platform based on Digital Twin concept, simulating real geography and bringing human life into virtual universe by focusing on 4 core business areas: real estate property, education, entertainment and tourism.
Set up in 2021, up to now, the Bizverse World platform has received great attention from the community, with the participation of a series of partners that are corporations and companies active in many different fields.
On March 12, Bizverse World signed cooperation agreements with a series of partners in many fields such as ASIM technology company, Ahamove in the field of technology and logistics; Viet Nam International Commercial Joint Stock Bank (VIB); Crystal Bay, Joolux, Time Universal (in the field of tourism, fashion, entertainment, media); Onefin e-wallet, and with international partners like Ai20X.
In particular, catching up with the world's Metaverse technology trend, the Hoi An municipal administration, the Hoi An Centre for Culture - Sports and Radio - Television and Bizvers have jointly launched a digital transformation project in tourism named 'Hoi An Metaverse' to promote ancient urban tourism more widely, especially in the post-COVID-19 context.
With this cooperation, relics, traditional craft villages and attractions in Hoi An will be digitised with 3D images, a 360 Space space with narrate local guides using AI technology. All will appear on the 3D map of Bizverse World.
Reporting by CAO TAI - Translating by A.THU
.