Metaverse Village makes its debut for startup connections
June 16, 2022, 10:22 [GMT+7]
Metaverse Village made its debut and a symposium on Metaverse took place in Da Nang on Wednesday within the framework of TECHFEST Viet Nam 2022 as a joint collaboration between the Ministry of Science and Technology and the Department of Science and Technology of Da Nang.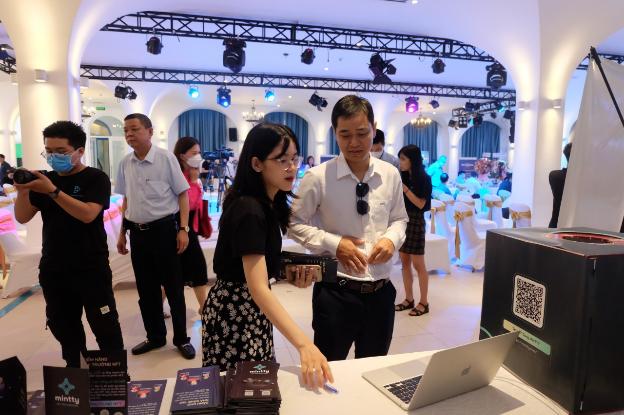 The Exhibition of Metaverse products at the event (Photo: VGP)
A metaverse is a network of 3D virtual worlds focused on social connection. In futurism and science fiction, the metaverse is a hypothetical iteration of the Internet as a single, universal and immersive virtual world that is facilitated by the use of virtual reality and augmented reality headsets.
Metaverse Village was formed and oriented to become a national gateway for organszations and individuals such as managers, researchers and investment funds at home and abroad to support start-ups.
According to Mr. Pham Hong Quat, Director of the Department of Market Development and Science - Technology Enterprises under the Ministry of Science and Technology, many other creative startup centers around the world are familiar with Metaverse. However, this phrase has first appeared on Viet Nam's innovation startup ecosystem map. Therefore, the Metaverse Village carries on its mission of contributing to bringing virtual reality technology to life step by step and connecting Vietnamese startups with others worldwide as well as supporting time to access the latest technology platforms, catch up with global technology trends and creat new values in the field of virtual reality technology in Viet Nam.
Right after the launch ceremony, Metaverse Village held the 'Metaverse - Decoding and dialogue with the future' symposium, seeing the participation of representatives from more than 10 investment funds, and over 250 delegates who are domestic and foreign managers, policy makers and experts on Metaverse, thereby clarifying the potentials, opportunities and challenges for Metaverse.
Within the framework of the event, there were an exhibition of Metaverse products, a meeting between investors, managers, representatives from investment funds, startup projects, and potential customers.
In 2022, the village sets targets of supporting 800 businesses in joining Metaverse platform sponsored by Bizverse World – a member of the village; organising activities to seek potential Metaverse projects; participating in the Metaverse Forum in the Republic of Korea; establishing a Metaverse Scholarship Fund to sponsor doctoral postgraduates in digital economy, blockchain, meta economy, smart city model on Metaverse.
Reporting by MAI QUE - Translating by A.THU
.