Quang Nam Province man keens on microbial organic agriculture
August 03, 2022, 18:19 [GMT+7]
Keeping up with the global trend in organic agricultural growth, Bui Ngoc Chau, 40, hailing from Tien Cam Commune, Tien Phuoc District, Quang Nam Province, has implemented a project on isolating and cultivating indigenous microorganisms for sake of improving soil quality and enhancing crop production.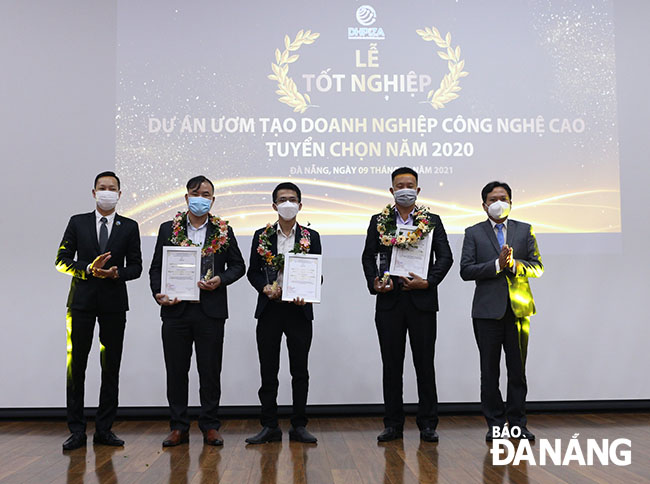 Bui Ngoc Chau (second, right) at the graduation ceremony for high-tech startups 2020 (Photo courtesy of the character)
Graduated with a bachelor's degree in information technology from a university in Da Nang, Chau had a working period in Ho Chi Minh City. In early 2008, he returned to his hometown to develop his family's traditional agriculture.
The middle-aged man said he was very impressed with modern agricultural sectors in foreign countries and the professionalism of foreign farmers. Farmers do not use any pesticides or growth feeds, but they still yield high-quality products.
Therefore, he nurtured a dream of building a new direction for local agriculture because he realizes the great potential of the organic agricultural market.
Thanks to his computer knowledge and the popularity of the internet, Chau has learned about microbiological technological achievements in organic farming in Viet Nam and around the world.
After a long time of research and experimentation, he has successfully applied native microorganisms in cultivation and animal husbandry.
Accordingly, he has produced many soil improvement products from native microorganisms such as probiotics, microbial organic fertilisers in powder and tablet form, fish hydrolyzate, fermented fish meal, and herbal preparations to treat fungi.
These products meet three criteria about environmental sanitation, public health protection and a sustainable economic model.
They do not harm plants and are completely beneficial to the surrounding environment because they do not cause pollution.
Moreover, by using these products helps increase the fertility of the soil without harming the structure of the soil, balance the ecosystem in the soil environment and especially minimize pests and diseases of crops, thereby significantly contributing to improving farming productivity and bringing high and sustainable economic values to farmers.
More importantly, according to Chau, when food is created from a process that does not use any chemicals, it will ensure quality.
On the other hand, these products help reduce input costs, enhance economic efficiency, and increase the quality of agricultural products. In particular, this new microbiological technology is easy to apply and very close to farmers and agricultural production in Viet Nam.
When joining a incubation programme in 2020 at the Da Nang Hi-Tech Park, Chau's project received an active support from the park's General Service Centre in developing a plan to improve the capacity of the leadership and consultancy teams, removing current obstacles, standardising the process system, and putting technology into the commercialisation process management and controlling as well.
Besides, the Songhan Incubator (SHi) also facilitate the project's developer to take part in in-depth training and consulting activities with experts to learn about business models, strategic thinking, finance and accounting, legal and skills to call for investment capital.
Through incubation activities, the project has been recognised and received high appreciation from the market.
"Most recently, I have set up a factory at Street 9 in the Da Nang Hi-Tech Park. In the coming time, I will continue to research and perfect the products. I hope that the project will be turned into a high-tech enterprise, contributing to the development of the city's economy", Chau expected.
Mr. Tran Van Ty, Deputy Director of the Authority of the Da Nang Hi-Tech Park and Industrial Parks informed that the highly practical project is on course to complete the legal procedures for its products and establish a new business in Da Nang.
Reporting by CAO TAI - Translating by M.DUNG
.