Deputy PM meets with foreign ministers of Myanmar, US, India
Published: August 11, 2014
Deputy Prime Minister and Foreign Minister Pham Binh Minh has held bilateral meetings with the Foreign Ministers of Myanmar, the US and India on the sidelines of the on-going 47th ASEAN Foreign Ministers' Meeting (AMM-47) in Nay Pyi Taw, Myanmar. |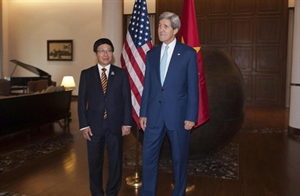 Deputy Prime Minister and Foreign Minister Pham Binh Minh and US Secretary of State John Kerry (Source: VNA)
Deputy PM Minh and Myanmar's Foreign Minister Wunna Mauung Lwin agreed to increase the exchange of visits, including a trip to Vietnam by the speaker of the Myanmar parliament. They reached consensus on the early organisation of the 7 th political consultation meeting at deputy foreign ministerial level and the 8th session of the Viet Nam - Myanmar Joint Committee . The establishment of a deputy ministerial- level dialogue mechanism on defence policy and a joint working group of the two defence ministries was also tabled for discussion.
Minh proposed that the two sides beef up their links in economics, trade and investment. He also called on the Myanmar Government to further facilitate Vietnamese firms' business and investment in Myanmar.
He praised Myanmar for its efforts as ASEAN Chair to promote ASEAN solidarity and the role and common voice of ASEAN member nations in vital security issues in the region, affirming that Viet Nam is willing to work closely with Myanmar in the future.
Meanwhile, at the meeting between Minh and US Secretary of State John Kerry, the two sides expressed satisfaction at the progress in bilateral ties since the two countries established a comprehensive partnership in 2013. The two officials agreed that there are great potential for Viet Nam and the US to step up the bilateral ties in the time to come.
Minh and Kerry also discussed cooperation in several specific fields including the negotiations on the Trans-Pacific Partnership (TPP) agreement, climate change and civil nuclear energy, while comparing notes on regional and global issues of common concern.
During Minh's meeting with Indian Foreign Minister Sushma Swaraj, the two sides outlined new directions for bilateral cooperation on economics and trade, with a view of raising two-way trade between the two countries to 7 billion USD by 2015 and 15 billion USD by 2020.
The Indian FM stressed that Viet Nam holds an important position in her country's Look East Policy.
(Source: VNA)


.