High-ranking US officer visits dioxin decontamination project
Published: August 18, 2014
Last Friday, the Chairman of the US Joint Chiefs of Staff, General Martin Dempsey, paid a visit to the thermal dioxin desorption system at Da Nang International Airport. About 45,000m3 of excavated dioxin-contaminated soil and sediment, which is stored in chests, is being burned by the process.
The operation is part of the "Removal of Dioxin Contamination" project at the city's airport which was officially approved by the Vietnamese Prime Minister in 2011. The project is now being jointly implemented by the Vietnamese Ministry of Defence and the US Agency for International Development (USAID). It aims to totally remove dioxin from the soil and thereby eliminate any risk of the local community being exposed to this toxic defoliant in the future. In addition, the project will help Viet Nam to improve its capacity for conducting environmental assessment and remediation activities.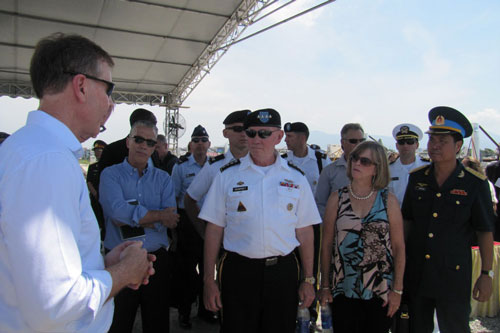 General Dempsey at Da Nang International Airport
General Dempsey said that he was very impressed by the current progress of dioxin removal, and the US Department of Defence had given strong support to this worthwhile project. He also remarked that the project marks an important milestone in boosting the bilateral ties between the USA and Viet Nam, as well as bringing benefits to Da Nang's residents. The bilateral cooperation to remove the dioxin contamination is convincing evidence of an improving relationship between the 2 countries, and between USAID and Viet Nam's National Air Force and Air Defence High Command in particular.
The general also promised that the US government and its armed forces would continue to cooperate with its Vietnamese partners in order to further deepen the bilateral ties and give more support to make Viet Nam an independent, strong and prosperous country.


.