Kerry Logistics wants to boost bilateral cooperation in Da Nang
Published: August 12, 2014
During his meeting on Monday with Da Nang People's Committee Chairman Van Huu Chien, the Chairman of the Kerry Logistics Corporation and former Singaporean Minister of Foreign Affairs, Mr George Yeo, said that he was very impressed by the city's rapid growth. He remarked that Da Nang was one of Viet Nam's strategic partners for establishing cooperative relationships with Singaporean businesses in various aspects.
Mr Yeo said that Kerry Logistics has developed 10 storage yards in Ho Chi Minh City, 5 in Ha Noi and 3 in Da Nang. The corporation has also cooperated with 100 post offices in Viet Nam to provide an express courier service, he added. He noted that Kerry Logistics wants to invest more into logistics services in Da Nang.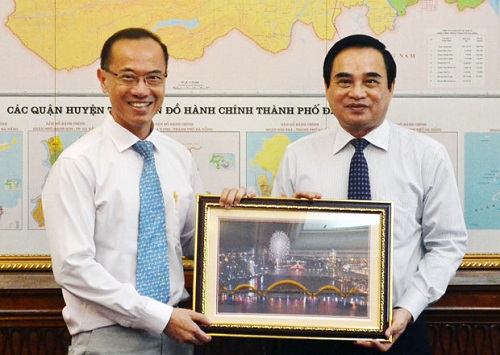 Chairman Chien presenting a memento to former Minister Yeo
Chairman Chien expressed his delight at the fine development of the bilateral cooperation between his city and Singapore. He said that Da Nang has learnt from Singapore's experience of management of the city's urban areas and its green tree network, its apartment buildings, and its decorative street lighting management and operation.
The city leader said that the Singapore Cooperation Enterprise (SCE) recently signed an agreement to provide financial aid to some of the city's projects. They are the "Improving the Capacity of Da Nang Traffic Management and Planning" at a cost of over 19.5 billion VND, and the "Improve the Capacity of City Managers Who Are Involved in Public-Private Partnerships (PPP)" projects. He said that the city has, however, seen a lower number of projects from Singapore than expected. He therefore asked the Singaporean Chairman to do his utmost to appeal for more businesses from his country to look at Da Nang's investment climate and invest in tourism, hi-tech, infrastructure and other aspects.
.